Classes in Yoga, Pilates, Hiit, Adult Ballet, running and 1-1 training
Location – Go Yoga, The Zone Hornbeam Park, HG2 9NY and Go Yoga Central, Under Fit, 23 Cold Bath Rd, HG2 0NL
We have over 40 different classes on offer each week in in Yoga, Hot Yoga, Aerial Yoga, Pilates, Hiit, Adult Ballet, running and 1-1 training as well as babies and children's yoga, dance and drama. We also run regular workshops and retreats for all abilities
Whether you are new to yoga, an accomplished pilates enthusiast, a health nut or just looking for something new to try, Go Yoga has something for everyone.
View our timetable here http://www.goyogaharrogate.com/#!timetables/c1gx5
contact Go Yoga on 07471 933488 or info@goyogaharrogate.com for more information. Click here to book
https://clients.mindbodyonline.com/classic/admhome?studioid=38005
Adult Classes at Chatsworth Dance
Monday
ZumbaFitness 7.45-8.30pm
Adult Ballet 8.30-9.15pm
Tuesday
Tap – 6.15-7pm
Street Jazz 7-7.45pm
DiscoFit 7.45-8.30pm
BodyCon 8.30-9.15pm
Wednesday
Tap 6.45-7.30pm
Ballet 7.30-8.30pm
Contemporary 8.30-9.15pm
DiscoFit 8.30-9.15pm
Tel: 01423 522322
Email: info@chatsworthdance.co.uk
New to the club from September 2015, Harrogate Gymnastics have teamed up with Chatsworth Dance Centre to offer Dance classes.
Dance Fit (Adults class)
A unique exercise and fitness programme for adults of all levels.
Monday 7 – 7.45pm
Cost £5 per session. This class is a drop in class so please come along and have a go!
Harrogate's Boutique Indoor Cycling Studio.
Go Revolution is more than just a spin class; it's about connection, community and most importantly – YOU. Our instructors will motivate, encourage and drive you to be the best that you can be in a 45 minute full body workout, in a friendly, non-intimidating environment.
We have rides for everyone; from beginners looking for a new way to exercise to seasoned cyclists looking for that extra training. Beginners rides to Colour rides, Party rides to Family rides. We love a theme ride too e.g. Take That, 80's, Greatest Showman, Pink vs Perry, Calvin Harris.
In a darkened studio, with funky lighting and uplifting playlists, you'll forget the outside world as you focus on your ride and your goals, feeding off the energy of others around you. Grab your complimentary towel and shoes! Join the revolution, ride to the beat and let the endorphin rush kick in!
Want to get fit and lose some weight but feeling nervous about starting exercise?  Try our Complete Beginners course on Mondays at 12pm.  These gentle 30 minute rides will introduce you to exercise in a fun, supportive environment and are a great way to make new friends. Bookable as half termly blocks, starting on 29th April 2019.
Pay per class, buy a ride bundle or opt for an unlimited membership! Intro offers for new clients. Easy hassle free booking online via our website www.gorevolution.co.uk or via our free app.
For a full timetable visit our website www.gorevolution.co.uk
email: hello@gorevolution.co.uk
Tel: 07471 933488
40 Commercial St, Harrogate, HG1 1TZ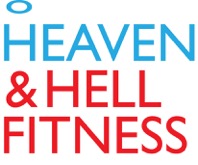 Fun, friendly group fitness
• Pilates
• Body Combat
• Boxercise
Monday at Harrogate Grammar School
6.15pm Body Combat
7pm Pilates
8pm Boxercise
Wednesday at Harrogate Grammar School
6.15pm Body Combat
7pm Pilates
Friday at St Wilfrid's Church Hall
9.30am Power Pilates
No need to book, just turn up! £6 per session. We provide all equipment and mats, just bring a drink.
For more information please contact:
Claire Eccles: 07976 240 255 or Louise Annat: 07958 492 621
Follow us on
www.facebook.com/pages/Heaven-and-Hell-Fitness/
www.heavenandhellfitness.com
Hi.
I am Valentina Hynes.
Becoming a Mum changed my life in ways I hadn't ever imagined. Suddenly, I had this little human to care for, fat from the pregnancy that wouldn't budge, mood swings, etc.
Dance became a lifesaver. I could soothe my baby to sleep with rhythmic moves, I got smiles and coos when he liked a song or certain moves I made, I felt happier and I quickly got back in shape.
Now, I have another baby and I want to share this magical journey with you through YOLO Dance.
I offer:
•  Fitness dance routines modified to suit you and your little one (a fusion of hip-hop, rhythm and African dance).
•  Refreshments
•  A soft play area for when your Little One gets bored
•  You could also win vouchers for consistent attendance from Prams Lullaby, My Life Pool, LKN Therapy, Charlotte Nelson Photography and Revolucion de Cuba.
Simply do a block booking of 4 classes for £25.
Join me, Let's build a community together, where we bond with our little humans, fight the blues, get fit and create magic.
To book, visit www.facebook.com/yolodanceharrogate
Monday 9.30-10.15am Zumba Gold Harrogate Squash & Fitness Centre £4.00  ZUMBA GOLD: Enjoy the dance of Zumba but "Gold" is gentle on your joints with low  impact moves & only gentle turns…Zumba is exercise in disguise!
Monday 6-7pm Tap Class Jennyfields Styan Centre Block Booking
Tuesday 7-8pm Zumba Fitness Jennyfields Styan Centre £5.00  ZUMBA FITNESS: Fantastic dance style class.  A mix of international styles with some high energy tracks thrown in!
Wednesday 11-11.45am Zumba Gold Friends Meeting House £4.00
Thursday 9.30-10.25am Baggy T Shirt**Friends Meeting House £5.00  "Baggy T Shirt Workout" : A no stress exercise class incorporating some low impact aerobics & toning exercises using hand weights or resistance bands, balance exercises and a good stretch.
Friday 12.30-1.30pm Zumba St Wilfrid's Church Hall All fitness levels £5.00
Friday 4-4.45pm Zumba Gold Jennyfields Styan Centre £4.00
Phone Sadie Davy on 07904 958028