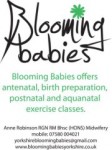 Classes are held at Nuffield Harrogate on Tuesdays & weekends (Pre-booking essential)
Home groups also available (Min number of bookings=6, Max 10)
Classes are held by me a Practising Midwife & a Qualified Nurse, whereby I specialised in A&E.
It is essential, as a parent or guardian of children, you are able to care for your baby in an emergency. By attending the course, you will gain confidence & awareness of how to treat your baby quickly in the event of an emergency. You will learn skills to care for your baby who suddenly becomes unwell or injured.
Limited time only – 10% discount for couple (mum & dad) bookings available!
Course booking:
Advanced booking essential.
Paediatric First Aid Made Easy Paperback included per person/couple RRP £5.99.
Practice CPR techniques on manikins
Limited class numbers
First Aid course content:
Basic Life Support – baby & child
Choking baby & child
Recovery position for baby & child
Head Injuries
Bumps, sprains, broken bones
Burns
Febrile Convulsion (fitting)
Signs of Meningitis
Swallowing harmful substances
First Aid ie. bandaging, stopping bleeding etc
Drowning
Annie Robinson, Blooming Babies
T: 07580004021
E: yorkshirebloomingbabies@gmail.com
W: www.bloomingbabiesyorkshire.co.uk
Come along to LEAR fitness, join in with our great classes and make use of the Creche.
Tuesday, Thursday and Friday  come for a SPIN or HIT class or work on your core at Pilates from 10-1 spaces available in the Creche too.
Give them a call and find out a little more or pop in for a walk around and check out the facilities
01423 709844
Mini First Aid offers first aid courses for all the family. The courses are delivered in a relaxed and comfortable style and cover the basics of life saving first aid, giving confidence to know what actions to take if faced with a medical emergency.