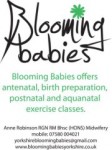 Antenatal classes (Couples):  Sunday 10.00am-1.00pm Nuffield Health Harrogate, Hornbeam Park Rd, Harrogate, HG2 8RA
Classes are suitable from 28–36 weeks pregnant
Cost £120 – 2 x 3hr classes
Includes complimentary 1 x day pass to Nuffield Health Harrogate
The Midwife run classes are both practical and informative, are kept fun and interactive. This course is delivered over 2 weeks, with a reunion a few weeks after the last baby is born.
Class 1 – Labour & ways to cope with labour. Class 2 – Feeding & caring for your newborn
Antenatal One2One Home Classes:
Cost on application
Classes led by Midwife Annie Robinson
These classes are perfect for couples unable to attend antenatal courses or who want a refresher course. Who would like a class in the comfort of their own home at an agreed time.
Contact: Annie Robinson
t: 07580004021
e: yorkshirebloomingbabies@gmail.com
w: www.bloomingbabiesyorkshire.co.uk
Qualified Nurse RM BHsc (HONS) Midwifery, Aquanatal level 1 & level 2, Diploma in Teaching Infant Massage (Instructor Course)