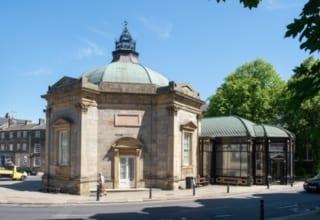 There's always lots for families to do at Harrogate Museums and Gallery!  Games, dressing up, trails, art materials and children's books are just some of the activities available.
---
At the Royal Pump Room Museum in Harrogate smell the stinky sulphur water that was drunk by hundreds of people each morning, back when Harrogate was the place for health and happiness visited by the rich and famous.  See and smell the original wells on a tour, discover the spa treatments, beautiful clothes, toys and household objects from the people of Harrogate past.  Enjoy further back in time with our Ancient Egyptian displays.
Royal Pump Room Museum, Crown Place, Harrogate, HG1 2RY | 01423 556188 | museums@harrogate.gov.uk
---
At Knaresborough Castle and Museum take in the beautiful views and discover the dungeon, ancient graffiti and special secret underground tunnel.  It may seem peaceful now, but the castle was once a mighty stronghold of medieval kings. Inside the museum you'll find tales of local characters including Blind Jack, Guy Fawkes and Mother Shipton. You'll also find the rare, original Tudor court room where suspected criminals faced public trial as well as family activities.
Knaresborough Castle and Museum, Castle Yard, Knaresborough, HG5 8AS | 01423 556188 | museums@harrogate.gov.uk
---
The Mercer Art Gallery in Harrogate is a relaxed, welcoming art space with changing exhibitions to suit everyone.  Our art trolley is always full of art materials to give the whole family a chance to get creative.
Swan Road, Harrogate, HG1 2SA, 01423 556188 | museums@harrogate.gov.uk
---
For full details of our museums and gallery visit www.harrogate.gov.uk/museums