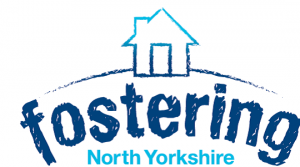 Hello – we'd like you to meet Liana and her mum, Alison.
"I never let our foster children feel left out when I have my friends over. Everyone just gets along. And when they go it can be really sad, but we often stay friends and keep in touch.''
That's what Liana says.  Liana is nine and she plays an important part in the lives of the children and young people her parents Alison and Tom care for with Fostering North Yorkshire.
FNY is part of North Yorkshire County Council and its foster carers look after over 300 children a year. The foster carers come from a wide range of backgrounds and family make-up, but what they all have in common is their desire to provide a secure and welcoming home for some of the county's most vulnerable children.
"When we first talked to Liana about the possibility of us fostering, she was a little bit nervous – quite understandably," said Alison.
"But once we had our first child to stay, she quickly learned that fostering was a great way for her to make friends and learn lots of new things. She really takes the lead now when we know we've got a new child coming to stay – she helps to tidy the room and make the bed. She also makes welcome banners for the door and provides a mini-tour of the house and garden!''
Liana said: "Sometimes, if someone comes to stay and they have lots of difficulties, it can be harder at the start, but I work to make sure we become friends and then when we argue, it's friendly just like brothers and sisters arguing. Before mum and dad started fostering I was a bit lonely as I'm an only child, but I'm never lonely now."
Alison added: "When a foster child is ready to move on, Liana always makes a card and we all sit down to a special goodbye meal with them. We love our roles as foster carers and want to keep on making a difference for the young people we look after. And we're so proud of the fact that Liana really wants to foster too when she's old enough – and she's set her heart on being North Yorkshire's youngest ever foster carer!''
People often think they can't foster because they are single, work or are too old, but none of these things matter. We're looking for people who have space in their home – and their heart – for a young person and can offer them a positive and loving home environment.  By becoming a foster carer, people have the opportunity to change a young person's life for good. How satisfying is that!
Fostering also brings with it generous tax-free payments and allowances, and while this is not the main motivation for most foster carers, additional income streams can be very welcome. For example, an accredited foster carer receives over £300 per week – around £16k per annum for a child aged 11 – 15.
For more information about becoming a foster carer with Fostering North Yorkshire, visit www.northyorks.gov.uk/fostering or call Fostering North Yorkshire on 01609 534654.