Sporting Influence provide a fun and active camp during EVERY school holiday. A typical day at camp will consist of up 5 hours of fun activity. Every hour we offer up to 4 different activities and in a day there will be around 10 – 15 activities taking place at camp. These activities vary from traditional sports such as football, netball and tennis, to more modern sports such as tchoukball. We also put a big emphasis on TEAM GAMES, encouraging the children to play as a team and develop their social skills. In addition to our games we also offer SWIMMING and ARTS & CRAFTS every day!!!
Using the amazing facilities at Harrogate Ladies College your child is bound to love our friendly and fun camps.
Our next camp is during the Easter Holidays (Mon 26th March – Friday 13th April 2018). A standard day would be from 9am – 3:30pm, but we also offer an early drop off service, from 8:00am, & a late pick up service, until 5:30pm.
Head on over to our website to book your place now before it is too late:
www.sportinginfluence.com/book-a-place/
Phone: 01423 522999
Twitter: @Sport_Influence
Facebook: Sporting Influence
Email: Sportinginfluence@gmail.com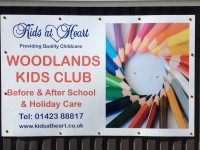 Woodlands Kids' Club (Kids at Heart)
Willow Tree Primary School
Wetherby Road
Harrogate
Tel: 01423 888817
www.kidsatheart.co.uk
Open 7.00 am – 9.00 am and 3.15 pm – 6.30 pm school term time and full days in school holidays for children 3 – 11 years.
'Practitioners know the individual needs and interests of children and plan a stimulating range of activities around their interests. Links with parents are good and individual needs are supported and met well. This means that all children are fully included and have a positive attitude towards learning.' (Ofsted 2014)
'Great place, great staff, great fun …… my daughter loves it and you can't put a price on that!' (parent 2013)
We have a fun packed activity plan with every child's interests at heart. Give us a call for more information or to arrange a visit, without obligation