Based in Harrogate we provide private midwifery care during pregnancy, childbirth and postnatally throughout Yorkshire.
Appointments are flexible and generous at times and venues to suit you. For care during labour and birth this can be offered either as a homebirth with two midwives present or as support from your private midwife in hospital.
Bespoke Birthing offers classes in Hypnobirthing, Antenatal classes, Breastfeeding Support and all other aspects of pregnancy and labour.
For more information on these services and our other pregnancy services please visit our website at www.bespokebirthing.co.uk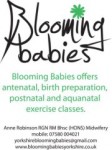 Aquanatal will help you maintain or increase your fitness and well being throughout your pregnancy. This enjoyable exercise is designed to help you cope with labour, provides a sense of well being and an opportunity to meet other new mums to be, in a warm, friendly, fun and safe environment.
Aquanatal: Monday 6.45pm-7.15pm Nuffield Health Harrogate, Hornbeam Park Rd, Harrogate, HG2 8RA
Aquanatal: Tuesday 10.30am-11.15am Nuffield Health Harrogate, Hornbeam Park Rd, Harrogate, HG2 8RA
Cost £40 – 5 x classes. Cost £8 – 1 x class from 35 weeks. Concessions for Nuffield members (£25- 5 x classes, £5- 1x class)
Classes are suitable from 12–41 weeks pregnant. Non-swimmers welcome. Advanced booking required
Led by Midwife Annie Robinson
Contact Annie Robinson 07580004021
www.bloomingbabiesyorkshire.co.uk
Qualified Nurse RM BHsc (Hons) Midwifery, Aquanatal level 1 & level 2, Diploma in Teaching Infant Massage (Instructor Course)
September- December 2017
Children & Families: Prevention. Harrogate & Knaresborough Areas.
Download the full weekly timetable here as a PDF.
Please contact the centre to confirm that the session is running prior to travelling. www.northyorks.gov.uk
Some sessions will not run during the school holidays.
Rachel's Fitness for Mums (previously Pushy Mothers) offers fitness classes and personal training to all pregnant and postnatal Mums.
Rachel is a  Level 3 Personal Trainer, specialising in Stott Pilates and pre and post natal exercise, and most importantly Mum to Evie!
From pregnancy, Mums can come along to Pilates and be taken through a safe and effective class with the support of a working midwife, Lesley Gilchrist of Bespoke Birthing, to give sound advice and tips for labour.
Once baby is born, mums can bring baby along to Buggy mums, where mums will be taken through specific exercises to strengthen the weakened muscles they have developed during pregnancy and child birth, lose the baby weight they gained during pregnancy and tone the muscles they need to help them be a strong healthy busy new Mum! Not only does this group give each mum a great feel good factor (with the coffee and chat after each class too) but baby also benefits from being out in the fresh air.
Once Mum is 9 months post birth, they can join Fitness in the Park to take them to the next level of fitness. Adding impact, running, dynamic exercises and weights.
Each group not only offers Mums expert advice, knowledge and a great workout, but also a social network- nights out are held at least twice a year for the Mums to celebrate their fitness achievements!
Pregnancy Pilates is on a Monday at 10.30am  (from 28th April 2014)and Wednesday at. 7.30pm at The Academy Gallery Studio.
Buggy Mums: Monday 1.15pm, Wednesday & Friday 10am in the Valley Gardens
Fitness in the Park: on Monday, Tuesday, Wednesday and Thursday at 9.15am and Saturday's 9.45am in the Valley Gardens
Postnatal Pilates for mums and babies, 6 weeks up to crawling. Tuesday's 1.30-2.30pm at the Academy Gallery studio.
1:1 Personal training or group sessions also available from the comfort of your own house or out in the park.
E-mail [email protected]  Tel 07796 142883
Visit our website www.rachelsfitnessformums.co.uk
Find us on facebook