There are plenty of events going on throughout the area for Mother's Day but it really is the thought that counts and you don't have to spend lots of money to show your Mum what they mean to you!  Mother's come in all different forms, and everyone of them deserves to be spoilt every day, but especially on Mother's Day.  So we've put our heads together to come up with the ultimate Homemade Afternoon Tea for all the family to enjoy – and for all the family to get involved in making (apart from Mama, who'll have her feet up!).  Here's a round up of some of our favourite Afternoon Treats that are really easy to make, so easy that even all of us at Harrogate Mumbler can make them!
---
Evie and Ed's Mini Mumbler Mars Bar Munchies
This is one of Evie's favourite recipes that she used to make with her mummy when she was younger, and I am pleased to say that it is a big success with her mini mumbler too. It isn't expensive, you don't have to cook anything in the oven, it is all on the hob, and it is quick! I hope it becomes a firm favourite
 with you and your mini mumblers too!
Ingredients
3 oz Butter
3 oz Rice Crispies (or a supermarket equivalent)
3 Mars Bars from a multipack of 4 (or a supermarket equivalent)
Method
1. Cut the Mars Bars into small slices and melt with the butter (also in slices) in a glass bowl over a saucepan of boiling water.
2. The mixture can get lumpy before it all melts together, so use a whisk to get rid of any unwanted lumps. It should be a smooth consistency.
3. Take off the heat and mix in the Rice Crispies one cup at a time. If you like your squares a bit gooey, don't put all the Rice Crispies in. I often use only about 2 thirds as I prefer them stickier. And I quite often double up the mixture to make 2 trays as 1 batch doesn't last very long in our house!
4. Spoon the mixture into a tray and spread out evenly. I normally line my tray with greaseproof paper or baking parchment as it is easier to remove them for cutting later.
5. Leave them to cool slightly and then place the tray in the fridge for a few hours until set.
6. Once set, remove from the tray and cut into squares.
You can also use this recipe to make Easter Nests. Just spoon the mixture into individual cupcake cases and make a dip in the middle to fill with chocolate mini eggs. Yum Yum
---
Sally, Tilly and Eva's Ice Cream Cone Cupcakes
A full proof recipe that wouldn't look out of place in an artisan bakery!  And you don't even need cases to make them!  This will make 12, which will last about 10 seconds in our house!
Ingredients
For the cones:
12 flat bottomed ice cream cones
12 squares of chocolate
125g unsalted butter, softened
125g caster sugar
2 medium eggs
1 tsp vanilla extract
125g self raising flour
1/2 tsp baking powder
5 tbs milk
For the icing and topping:
120g caster sugar
80g golden syrup
2 large egg whites
1/2 tsp vanilla extract
6 flakes
coloured sprinkles
Method
Pre-heat oven to 180C.  Place a cone into each hole of a 12 hole muffin tray.  Place 1 square of chocolate into the bottom of each cone and place the tray into the preheated oven for 5 minutes.  Remove from oven and make sure the chocolate is spread to cover the base of the cone.  Set aside to cool.
Beat the butter and sugar until pale and fluffy then add one egg at a time and the vanilla, then add in  the flour, salt and baking powder bit by bit until the mixture is thick and completely mixed.  Pour in the milk.  Evenly divide  the cake mix between the cones, making sure not to over-fill them.  Bake in the oven for 20-25 minutes.
For the icing, placing the sugar, syrup and 2tbsp of water in a pan and cook without stirring until the mixture reaches the a soft ball stage.  Remove from the heat.  Place the egg whites into the bowl and beat until soft peaks form.  Slowly pour in the hot sugar.  Add the vanilla extract.  Using a piping bag, pipe the icing onto the cakes.  Top with half a flake and some sprinkles and enjoy!
---
Kate and Ida's Victoria Sponge
An Afternoon tea isn't complete without a nice big slice of Victoria Sponge!
Ingredients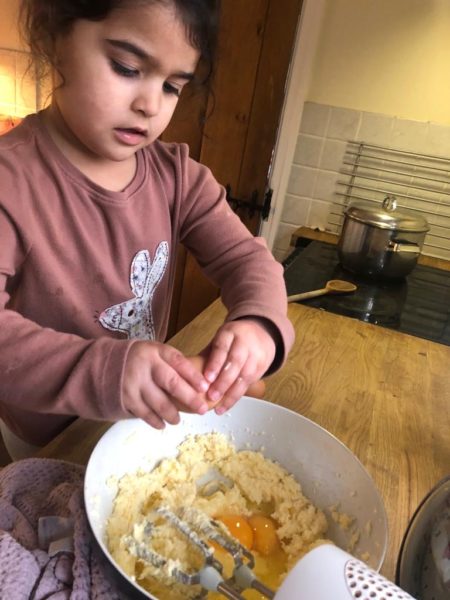 4 eggs
8oz caster sugar
8oz self-raising
2tsp baking powder
8oz butter
Serve with jam and double whipped cream
Method
Preheat the oven to 180C. Grease and line two 20cm/8in sandwich tins.

Break the eggs into a large mixing bowl, then add the sugar, flour, baking powder and butter. Mix together until well combined.

Divide the mixture evenly between the tins.

Bake the cakes on the middle shelf of the oven for 25 minutes. . Cool for 5 mins then  carefully turn the cakes out onto a cooling rack.

To assemble the cake, place one cake upside down onto a plate and spread it with plenty of jam then spread over whipped cream . Top with the second cake, top-side up. Sprinkle over the caster sugar.
---
Kayti and Esme's Millionaire Shortbread
A real show stopper!  Believe me I am no baker, but these are so easy to make and look sooo good!
Ingredients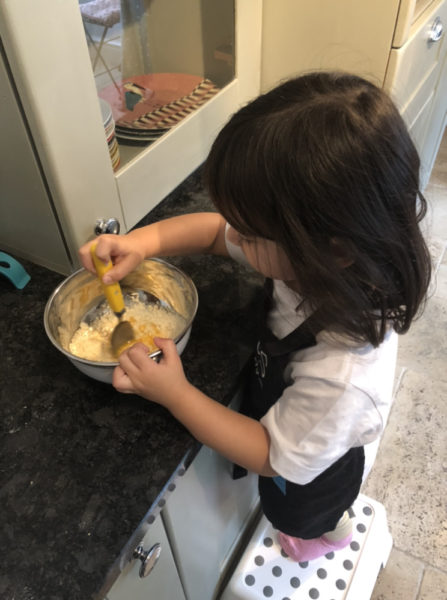 4oz butter
2oz caster sugar
6oz plain flour
1 tin of carnation caramel
1 large bar of chocolate
Method
Heat the oven to 190C.
Beat the butter and the sugar together until smooth.
Stir in the flour to get a smooth paste. Gently roll out until the paste is 1cm/½in thick.
Cut into rounds or fingers and place onto a baking tray. Sprinkle with caster sugar and chill in the fridge for 20 minutes.
Bake in the oven for 15-20 minutes, or until pale golden-brown. Set aside to cool on a wire rack
Once cool spoon over a thick layer of caramel and cool in the fridge.
Whilst the biscuits are cooling melt a large bar of chocolate. Pour this over the biscuits and leave to cool.  For that finishing touch I always melt a different coloured chocolate and drizzle that over the top.
---
Sarah and Cora's Black Forest Gateau
A throw back to the 80's for this timeless classic.  Bowl lick-able!
Ingredients
175g self-raising flour
2 tbsp cocoa powder
1tsp bicarbonate of soda
150g caster sugar
2 tbsp golden syrup
150ml sunflower oil
150ml semi-skimmed milk
Serve with tinned morello cherries and double whipped cream
Method
Heat oven to 180C. Grease and line the base of two 18cm sandwich tins.
Sieve 175g self-raising flour, 2 tbsp cocoa powder and 1 tsp bicarbonate of soda into a bowl. Add 150g caster sugar and mix well.
Make a well in the centre and add 2 tbsp golden syrup, 2 lightly beaten large eggs, 150ml sunflower oil and 150ml semi-skimmed milk. Beat well with an electric whisk until smooth.
Pour the mixture into the two tins and bake for 25-30 mins until risen and firm to the touch. Remove from oven, leave to cool for 10 mins before turning out onto a cooling rack.
Sandwich the two cakes together between the cherries and cream.  Decorate with cherries and cream
---
And if it all goes wrong get out and support one of our many local AMAZING bakeries in Harrogate & Knaresborough!