2018 has been a great year for Harrogate and the opening of new bars and eateries. What's especially nice to see is whilst the big high street chains can't seem to hack the pace, we are seeing small local chains and independent food and drink places in Harrogate flourish. As it's the time of year to eat, drink and be merry we thought we'd share with you some of our newly opened favourite places to eat and drink in Harrogate – with or without the little ones in tow.
Thug Sandwich 2a Albert Street
This list is in no particular order, but if it were this would be number one! Opening at the end of the summer this little sandwich shop is AMAZING. Owner Dan is a trained chef and boy, you can tell. I feel like he's somehow got inside my head and made everything especially for me – and judging by his reviews online I'm not alone in thinking this. The guy is a gastronomic genius! Pretty much everything he puts in that sandwich he makes himself – and my goodness everything I've tried so far (which to be honest is most of the menu) is a taste sensation. And for those few things he doesn't make he sources from local suppliers. My personal favourite is the special beef in soy and honey – just delicious. Portions are really generous, which always gets a thumbs up from me. The billionaire shortbread is to die for, my husband says it's ruined any other caramel shortbread for him because these are so good! I love this shop, Dan has done such a brilliant job with the place – he's so passionate about what he does and it really shines through. I'm sitting here smiling just thinking about how tasty those billionaire shortbreads are! Seriously – without a shadow of a doubt the best place to get a sandwich in Harrogate. Go check it out NOW!
I am Doner, 30 Station Parade
I am Doner opened its second premises here in Harrogate last month. I am Doner is a revolutionary kebab shop serving delicious takeaway doner kebabs, salad and rice boxes with artisan bread baked daily. They use a total of 120 ingredients in the six kebabs they make and there is nothing dirty about these kebabs! Founder Paul Baron is leading the kebab revolution after having worked in Michelin starred restaurants and been trained by top chefs. I am Doner is inspired by the kebab shops of Berlin and they've got it spot on. Me and hubby got a take away from here last week and it was delicious – portions were huge and the food was not only tasty but pretty damn healthy. Hubby went for the large roast chicken doner, I went for the chicken rice box and we shared a portion of the special street cart fries. All were super tasty but my favourite had to be the special street cart fries – basically a mixture of all their kebabs loaded on chips. What's not to love! They even do a vegan kebab which I've heard very good things about. Another great addition to the Harrogate food scene – and definitely not a kebab shop just to visit after a night out – there are even queues at lunchtime!
Corner Haus, 28a Swan Road
Situated near the entrance to Valley Gardens this café bar has literally just opened. Inspired by trips across Northern Europe, owner Isla Birch is putting everything she loves about her trips abroad into this place. They plan to serve an alternative brunch – including waffles and some yummy tasting potatoes and cheese dishes. As well as food and really good coffee, Corner Haus also serves beer and wine! There's easy access and plenty of space for pushchairs – the big leather sofas add to the relaxed atmosphere. It has a real Alpine Lodge feel to the place. I'm envisaging this place being really popular especially in the winter; I'm already thinking this will be an ideal place to warm up after some winter sledging in Valley Gardens. Something a little different to what's currently on offer in Harrogate – I think this place will be a great success!
Cold Bath Brewing Co, 46 Kings Road
This place is bought to us by three local friends who shared a love for craft lager, who were so good at making the stuff that they opened their Brew lab earlier this year. It's been a great addition to the Harrogate bar scene AND they brought the sunshine with them – what a great opening summer for them! We even managed a very unheard of date night here at the end of the summer and we loved it. Hubby can vouch that the lagers are great – he got through quite a few! The atmosphere and the bar staff were equally as great – and I can assure you if we ever get round to another date night we'll be heading here again.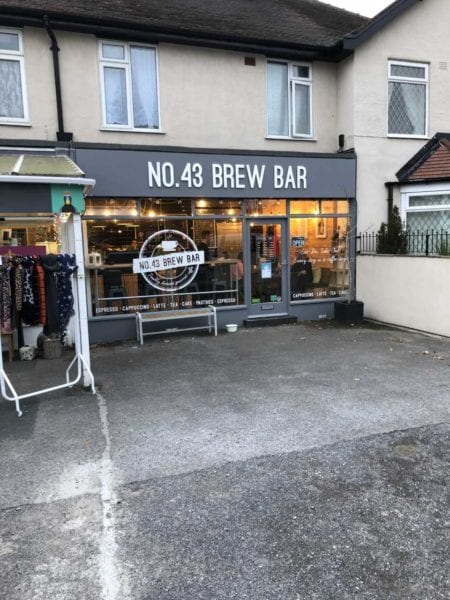 No 43 Brew Bar, 43 St. Winifreds Avenue
This is a lovely little local coffee shop in the Saints area which opened earlier this year. A small little coffee shop with a few tables and a communal bar area, this place has a really friendly and snug feel – they even have dog treats out for your four-legged friends. We took our little girl for an afternoon treat – her and hubby gave the chocolate milkshake a big thumbs up. The cakes made by the Harrogate Cake Lady looked delicious, but I opted for a scrumptious brownie, made by Brown and Blond Brownies. They also serve a selection of freshly made sandwiches and paninis, available from mid-morning. A lovely little addition to the area – already a big hit with the locals!
The Cats Pyjamas, 2-4 Albert Street
The Harrogate branch is the newest addition to this small Yorkshire chain. You might have heard they're having a few financial issues – but that appears all to be in hand now and the Harrogate branch is definitely open for business. Indian street food served in a vibrant trendy setting. Worlds away for your typical Indian restaurants and when it's done in this style it's right down my street – I particularly liked the Lamb Chops and Saag Paneer. The restaurant gets extra brownie points from us for being very kiddy friendly – with a kids menu for your more adventurous children and plenty of space for high chairs and buggies. In fact, if you're waiting on the imminent arrival of a little one the owner Alison White swears by the Pork Vindaloo to bring on labour!
There you have it – a round-up of some of our favourite new additions to the Harrogate Independent food and drink scene. And it doesn't stop there – if you're a fan of fish then FISK are opening their second restaurant in Harrogate this week, and if you're a fan of donuts you'll be pleased to know Manna Bakery are also taking over new premises. I've also been reliably informed that Baltzersen's are expanding too! If you haven't tried these places before – treat yourself as well as supporting some great local companies. As always, if you have any other recommendations you'd like to share then let us know your thoughts on our Facebook chat group!