Get your best superhero costume on and show us your super powers! By dressing up you get yourself 25% off your booking.
*This offer is only available for walk-in bookings.
**EXCLUSIVE HARROGATE MUMBLER DISCOUNT**
20% OFF on holidays and weekends for 1-hour Open Play sessions
use code HARROGATEMUM when booking online
Leisure Exchange, Vicar Ln, Bradford BD1 5LD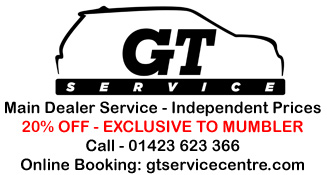 20% Mumbler Discount
Book your car in for a  service, MOT,  fix or health check and receive this discount on any parts!
Any car, shape, model and size!
Quote "Mumbler" when you book in!
At Mumbler HQ, we pride ourselves on only recommending local businesses and services who we genuinely believe in and our partnership with G T Service is no exception. Mumbler have been a customer of GT Service for 5 years now and they never fail to provide a top notch service.
G T Service have provided all the routine servicing to my last two cars and even sourced my latest "Mumbler mobile" when I went to them with a long list of requirements (basically I needed a large 7-seater that wasn't flashy as I knew it would be like a mobile skip after me and my tribe had got our mitts on it)
Tom was able to find me a great secondhand car through the dealer auctions, had it checked over and ready for me in pristine condition (which didn't last obvs!) with a very useful warranty on it and a years breakdown cover.
As well as finding the car, he sorted me out with a professionally fitted blootooth phone kit and even tinted the rear windows (because I'm just a little bit gangsa; who am I kidding, the truth is I want to be able to hide the shameful  amount of child related crud in the back of my car from the general public)
Tom and his team are extremely knowledgeable but explain things in plain english, telling you about your options and the associated costs.
You don't need to pay to find out what is wrong with your car either- GT Service offer Mumblers FREE DIAGNOSTICS as well as an amazing 20% off parts and servicing.
Tom and his team are friendly and approachable- as a dad of two Tom knows how inconvenient an out-of-action car can be and they have curtesy cars for you to borrow, can arrange collection and delivery or you are very welcome to wait in their comfortable showroom where you'll find a pile of magazines and a selection of toys for the kids.
Wether it's regular servicing, tyres, unplanned maintenance or breakdown or finding your next car, contact G T Service for the best price and service locally.
The new premises are located across the road from Follifoot Riding Stables, just off the bypass by the new rugby ground.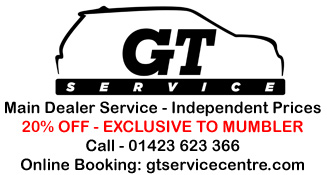 GT Service Ltd
Unit 1D, Follifoot Ridge Business Park,
Pannal Road,
Follifoot,
Harrogate,
HG3 1JL
P&F: 01423 623 366
W: https://www.gtservicecentre.com
"Would just like to say I highly recommend GT Service LTD in Pannal. Very friendly, professional and certainly do not rip you off. Fantastic Service."
"GT Service have been servicing and repairing the Mumbler Mobile for the past year and I highly recommend them. Tom and the team are straight talking, honest and provide an excellent service for a great price. "Harrogate Mumbler March '15
GT Service are now offering free diagnostics for any problems you have with your car. Along with the  Mumbler 20% discount off parts and labour. That way you don't pay for finding out the problem only pay for the problem to be fixed. They have courtesy cars available for you to use and they are child and pet friendly if you want to wait for your car to be fixed. They can also give you a lift back home or to town while your car is in with us.
Escape to a luxury cabin with private hot tub with Forest Holidays and enjoy 5% discount – the perfect getaway for families, couples and friends. Choose from 10 locations across the UK, including 2 on the edge of the North York Moors National Park on stunning Forestry Commission land. You can pack your days with action and adventure, hiring bikes or trying your hand at canoeing, archery or a range of other pre-bookable activities. Or perhaps you prefer to luxuriate with a glass of champagne in your own private hot tub under a starlit sky, soaking up the serenity of the forest around you or enjoying a soothing in-cabin spa treatment. The freedom, the fresh air and the forest are yours to enjoy at your own pace, whatever the season. And our pet friendly cabins mean you can bring your dog too!
Book now with code MUMBLER19* to enjoy a year-round 5% discount using promocode. Don't delay, visit www.forestholidays.co.uk or call 03330 110495 and quote the code.
*Discount can be taken at any time of the year including school holidays and Bank holidays, and applies to all cabin types. This discount applies to the cabin price only and not any extras. May not be used in conjunction with any offer and cannot be applied retrospectively. Forest Holidays reserves the right to withdraw this offer at any time.
For more information, please read the blog here.
Located above Sweaty Betty in Harrogate Town Centre
Whether you're joining us for Yoga, Pilates or any of our mat-based sessions, you'll find Sweat Wellness is the perfect place to relax your mind and get away from the stresses of everyday life.  It doesn't matter if you're a first timer or you Namaste every day, everyone's welcome. This is the place that embraces messy hair and sweatpants.
Use offer code FREESWEAT for your first session absolutely free.
Use offer code MUMBLER20 for an exclusive 20% on any of our class packs of 5 or 10 sessions. Valid until August 31st 2019.
Did you know that pregnancy leads to lasting changes in foot shape and size?
Souls are new shoe insoles designed to support your feet during pregnancy and minimise the risk of changes in foot structure. This keeps you comfortable during pregnancy and protects against posture changes that could cause you pain in your ankles, knees, hips and back. They can be inserted into any shoe or boot, they look stylish and come in a range of colours.
Souls have been designed by a new Hull based start-up company who have previous experience working in the foot care and pharmaceutical industry. The insoles are manufactured in Hull and can be distributed across the UK. To celebrate their launch they are offering 10% off any order! Simply use code Mumbler10 and it will give you 10% off any order of Souls on their website.
For more information and to buy please see their website www.mysouls.co.uk
Blue Coat Farm Beef & Lamb
We sell delicious, local, grass fed beef and lamb joints wrapped and labelled, ready for the freezer. Our cows and sheep are reared on 80 acres of grassland just outside Harrogate.
Quote Mumbler and get £5 off your first order.
Call Jo 0780 872 8334
The handiest of Handymen. All areas of Garden/property maintenance undertaken, Painting, tiling, gutter cleaning through to full bathroom refits. No job too small and all works considered. Call Mark on Harrogate 01423543508.
"I can recommend Mark from Harrogate Property Services. He has fitted a new gate for me, painted my living room, made me a beautiful coffee table and I've asked him to redo my bathroom.  He's reasonably priced and very reliable and trustworthy." LS Jan'16
We are a local company that undertake all aspects of painting and decorating using both traditional and HVLP/ airless spraying methods. Call and speak to Darren for a free consultation and quote on 07878399008. We would like to offer Mumbler members a 10% discount.
I am Holistic Wellness Coach helping Mamas find vibrancy in their lives again after having children. I do this in a myraid of ways but I mainly utilise life and health coaching, doTERRA Essential Oils, yoga, and breathing exercises to achieve your goals. Contact me today for a chat so that we can figure out what it is you'd like to achieve and what is keeping you from being the most vibrant you you can be! Quote 'Mumbler' for a free 45 minute chat!
Call 07588 603867
Amazing discounts at Yorkshire's top Attractions & Independent brands. This Mummy Loves is an annual membership offering Mamas & their mini tribe fantastic discounts at the very best visitor attractions & quality independent brands across Yorkshire.
Amy
07388 216 433
Uniquely Local is an independent Yorkshire business working with local suppliers to provide a range of Yorkshire based experience days. We have experiences to suit everyone; all ages, individuals, couples, groups and budgets. Whatever the reason our experience gifts make memories that last a lifetime; buy one as a gift for others, a treat to yourself, or to enjoy quality time with friends and family.
Find out more at https://uniquelylocal.co.uk
Mumbler offer – enter MUMBLER10 at the checkout to get a 10% discount.
Website | 0800 772 0825 | hello@uniquelylocal.co.uk