Children & Families: Early Help provides support for a family when a need is identified at any point in a child's life. We work across all agencies and partners and we aim to deliver the right support, at the right time and in the right place to families.
The following group activities will be available to meet local need. Most of these programmes are referral-only. Please talk to any practitioner if you would like you, your child and/or a family member to be referred onto any of the activities. The practitioner will contact us to add your name and details onto our waiting lists and you will then be contacted.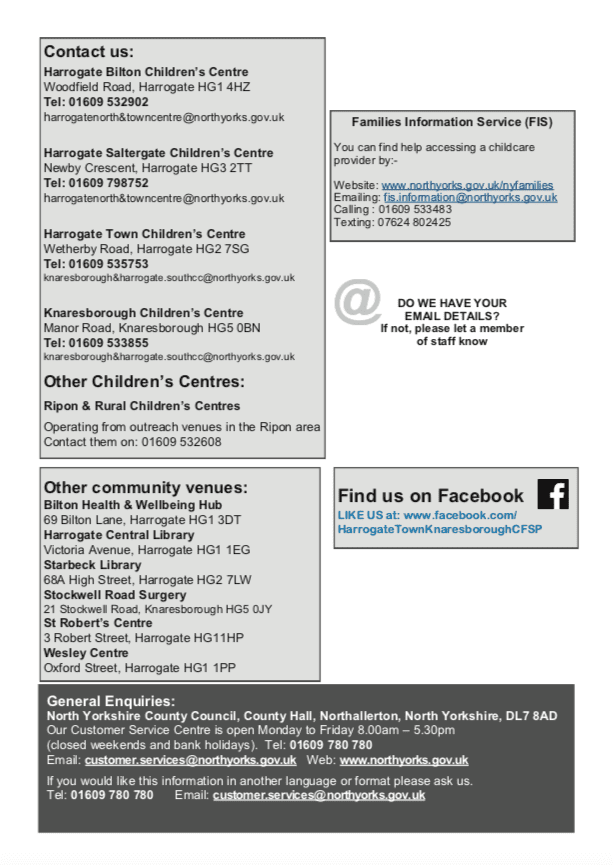 Evolve Psychology is an independent psychology and neurodevelopmental practice. Evolve offers Emotional Well-being, Autism, ADHD, child, family and adult assessments. Based in Harrogate, we provide families and individuals with full assessments as recommended by the National Institute of Clinical Excellence.
Our emotional and wellbeing specialism also helps clients (children and adults) by undertaking assessments for a range of difficulties such as depression, anxiety, anger, self-esteem, eating disorders, PTSD and Obsessive-Compulsive Disorder (OCD).
We also provide expert witness reports for the courts and parole boards in the areas of family law, criminal law, immigration law, prison law and medico-legal cases.
Following its expansion, Evolve can now draw upon the skills of a growing team of Clinical and Forensic psychologists, with backgrounds in Forensic Psychology, Child and Adolescent Mental Health Services, Looked After Children's Services and Adult Mental Health/ Learning Disability Services.
The team includes Speech and Language Therapists, Consultant Child and Adolescent Psychiatrists, Child and Adolescent Mental Health Services (CAMHS) practitioners, and Assistant Psychologists. Please see our Facebook page or website www.evolvepsychology.org for our full range of services and contact details.
Dr Laura Powling
HCPC Registered Consultant Clinical Psychologist, Director
Evolve Psychology Services Ltd
14 Victoria Avenue
Harrogate
HG1 1ED
Tel: 07557055781
www.relaxationandmindfulness.com click on to see the various videos
Virtual Gastric Band – / Weight Control, this is a 4 week programme.
The Virtual Gastric Band is a non-surgical technique which uses the power of hypnosis to retrain you to be satisfied with smaller amounts of food. It changes how you think about food and gives very safe, very predictable results. The clinical hypnotherapy convinces the brain that the stomach is full after a certain level of intake and that there is no need for more food.It is most definitely NOT a diet – we know that diets only work in the short term. The Virtual Gastric Band allows you to eat what you want, but will enable you to intake smaller portions. And, because it's not a diet, you won't feel deprived, miserable or hungry, the issues which cause diets to fail. As The Virtual Gastric Band effectively negates these issues, you are left with a long-term solution to your weight problems.
In the UK, 1 in 4 people will experience a health problem at any one time, including in the workplace. Most of my clients take up my services where I carry out Counselling / Hypnotherapy where I work with the "Mind set" and teach you skills, tools to make a difference to your life . The 1:1 personal bespoke sessions £60.00 .
· Sports Enhancement
· Post Natal Depression
· I.B.S.
· Pre-Examination Performance Programme
· Motivational Techniques
· Stress Management
· Anxiety – Panic Attacks
· Depression – Insomnia
· Addictions
· Phobias
Body Toning
Electronic Muscle Stimulation you can completely reshape your body quickly and easily. Imagine completing your arm workouts, leg workouts and abs exercises, all at the same time. By using EMS for body toning, you can get muscle tone and replicate the benefits of exercise, without the need for strenuous physical activity. EMS simulates exercise and activates the muscles with contraction and relaxation methods, literally moving your muscles for you.
· Get a flat stomach and lose belly fat – a great workout for Mums after childbirth;
· Strengthen pelvic floor muscle – Postnatal toning; Treat cellulite on thighs, ankles,
knees, stomach, buttocks, hips, and arms: stimulate and make muscle do contracting exercise
· Reduce your waist size – measurable loss of inches – assists in weight reduction;
· Improve skin tone – tighten sagging skin (especially while losing weight);
· Pain management – assists with Pain reduction;
· Muscle Recovery – Promotes oxygen flow throughout your body;
· Reduce pressure on joints;
· Get a leaner, fitter, stronger body without the pain of exercise; and
Increase strength and endurance – passive workout without risk of trauma or fatigue. Relaxation and anti-stress: massage with rhyme by BIO to relieve muscle fatigue. Individual sessions appointment time 50mins from £48. 10 Treatments are recommended over a period of 5 weeks. Book a course of 10 and get 1 session free.
Non Surgical Facial Lift -What are the benefits of the Micro-current Facial Toning Treatment
· Raises and lifts forehead and eyebrows
· Smooths crows feet
· Smooths and lifts upper eye area
· Detoxifies the lower eye area
· Lifts and defines the cheek area
· Tones and reduces sagging jaw line
· Reduces formation of lines to the lip area
Enjoy a mini facial before the micro-current toning treatment. Allow 50 minutes. 10 Treatments are recommend over a period of 4 weeks. £48. per session. Book a Course of 10 – get 1 session free
Reiki – Reiki energy session/chakra balancing can brings deep relaxation, soothing emotions and reducing negative feelings. It can help you be the best that you can be. One treatment is physiologically the equivalent to 3/4 hours of deep sleep. It helps you find true peace of mind and brings positivity to help you cope with life's daily challenges. From £36.00 per session. Ear Candling (Hopi candles) £28.Regular ear candling are thought to provide benefits such as: * Migraines, Hay fever, Anxiety and Stress, Post Flying and driving ear ache
Please ring Loraine to have a chat regarding various therapies and beauty treatments.
Email:loraine@relaxationandmindfulness.com
Mobile: 07429541273
www.relaxationandmindfulness.com