Children & Families: Early Help provides support for a family when a need is identified at any point in a child's life. We work across all agencies and partners and we aim to deliver the right support, at the right time and in the right place to families.
The following group activities will be available to meet local need. Most of these programmes are referral-only. Please talk to any practitioner if you would like you, your child and/or a family member to be referred onto any of the activities. The practitioner will contact us to add your name and details onto our waiting lists and you will then be contacted.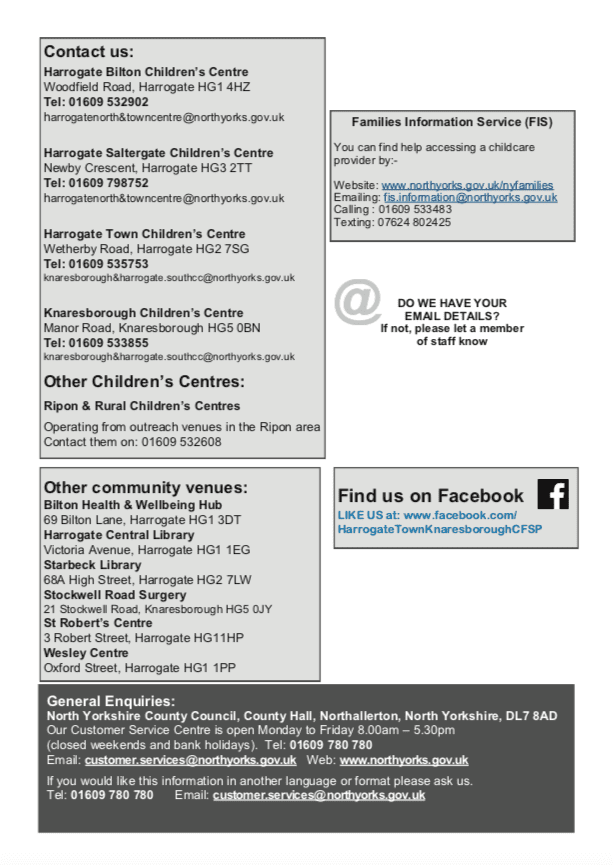 Evolve Psychology is an independent psychology and neurodevelopmental practice. Evolve offers Emotional Well-being, Autism, ADHD, child, family and adult assessments. Based in Harrogate, we provide families and individuals with full assessments as recommended by the National Institute of Clinical Excellence.
Our emotional and wellbeing specialism also helps clients (children and adults) by undertaking assessments for a range of difficulties such as depression, anxiety, anger, self-esteem, eating disorders, PTSD and Obsessive-Compulsive Disorder (OCD).
We also provide expert witness reports for the courts and parole boards in the areas of family law, criminal law, immigration law, prison law and medico-legal cases.
Following its expansion, Evolve can now draw upon the skills of a growing team of Clinical and Forensic psychologists, with backgrounds in Forensic Psychology, Child and Adolescent Mental Health Services, Looked After Children's Services and Adult Mental Health/ Learning Disability Services.
The team includes Speech and Language Therapists, Consultant Child and Adolescent Psychiatrists, Child and Adolescent Mental Health Services (CAMHS) practitioners, and Assistant Psychologists. Please see our Facebook page or website www.evolvepsychology.org for our full range of services and contact details.
Dr Laura Powling
HCPC Registered Consultant Clinical Psychologist, Director
Tel: 01423 637818
Email: enquiries@evolveps.co.uk
www.evolvepsychology.org
Evolve Psychology Services Ltd
Windsor House,
Cornwall Road
Harrogate
HG1 2PW
The perinatal community mental health team provides a community service to support women who are experiencing mental health difficulties during pregnancy or in the first year after they have had their baby.
Mental illnesses affect more than one in ten women during pregnancy and the first year after childbirth.1. During pregnancy and after birth, women can be affected by a range of mental health problems including anxiety disorders, depression and postnatal psychotic disorders.  Some women are at increased risk of experiencing mental illness in the perinatal period, particularly those who have suffered from a severe perinatal mental illness such as postpartum psychosis, severed depression and those with bipolar disorder. 2
The team supports women living in North Yorkshire and York who are either pregnant or up to one year post-natal and who have been suffering with significant mental health difficulties, that requires specialist support from mental health services.
You can be referred by your GP, health visitor, midwife or another professional who works with you.  You will be contacted by a member of the team to arrange a convenient appointment for your assessment. If we are unable to reach you by telephone we may send you an appointment by post. If you do not feel you need this appointment it would be helpful to let us know. Your initial appointment can last up to an hour and is an opportunity for you to discuss your current difficulties. You are welcome to bring a friend, family member or other professional to this appointment if you would find this helpful.
If we decide that the perinatal service is the best service to support you, you will be allocated to one of the clinicians within the team. They will then work with you to agree a care plan to help meet your individual needs and find solutions to support you on your road to recovery.
Everything you say, and the information about you will be kept confidential within the perinatal team. The only instance in which we would need to break your confidentially is if it was felt there was a risk to yourself or others, but we would speak to you about this.
References
Prevention in Mind. All Babies Count: Spotlight on Perinatal Mental Health. Sally Hogg, NSPCC 2013
Antenatal and postnatal mental health: clinical management and service guidance (December 2014) NICE guideline 192. National Institute for Clinical Excellence.
01904 556 724
tewv.northyorksperinatal@nhs.net
Visit Website