The lovely people at Heal invited me to their medical and wellness spa to try out their signature medical pedicure. It's a fab idea – bringing medicine and beauty together under one roof. Heals has been open for around a year now, and is owned and run by husband and husband team Oliver and Matthew.
As soon as I entered this place I instantly felt relaxed. They've nailed the interior design – it's an Instagram and Pintrest dream! The smell of the place was divine and the staff were utterly lovely and super attentive. Mumblers – if you are in need of some much needed pampering time you have to check this place out! Hair salon, chiropody, beauty and reflexology – they do it all!
Oliver is a trained podiatrist and is so passionate and knowledgeable about what he does. He believes – and rightly so – that medicine shouldn't be utilitarian, it should be enjoyable. The medical pedicure is essentially a full pedicure but done by a medically qualified podiatrist using the correct sterilized equipment. I cannot tell you how gorgeous my feet looked and felt after Oliver had done his magic! No more hard skin – I could now give my little girl a run for her money in the soft feet stakes!
To finish the pedicure Oliver handed over to his husband, and in-house beautician Matthew – who finished my feet off with a gel polish. Matthew was equally as lovely and passionate about Heal as his husband. I have to say, this is one of the best – actually scrap the one bit – this is THE best pedicure I've ever had! The products they use throughout their spa are very luxurious, and all super environmentally friendly.
It's worth mentioning they do a loyalty scheme – collect stamps each time you receive any nail polish service. For every six stamps – you get the seventh service totally free! As well as this they also run a subscription scheme called Devotees. For £14 a month you receive a treatment or product worth greater than your fee. Their July Devotee treats included eyebrow tint and shape, file and polish or a milk body spray. I think it's a great gift idea – I've added it to my Christmas list already!
For those of you that fancy some child-free time – get down to Heals, set in Harrogate's beautiful Montpellier Quarter, as quick as your soon-to-be beach-ready feet will carry you! In fact, if you mention Harrogate Mumbler when booking you will receive 25% off your first beauty or medical treatment. But hurry – all good things must come to an end, and this offer is only valid for June appointments.
For more details check out their website healspa.co.uk
It was another #fitnessinfluencers day out for us all on Monday.  This week we were invited to Move Yoga Harrogate to take part in an Introduction to Yoga taster class.
Move Yoga Harrogate is a fun and friendly yoga studio, located right in the heart of Harrogate towncentre. Their purpose is to offer a safe, welcoming space to share the wisdom of yoga and the gift of community. They have classes for all levels offered by loving and experienced teachers.
Our teacher for the class was Alissa.  For anyone considering taking up Yoga for the first time she runs regular Introduction to Yoga courses, with the next one starting on Monday!
For those of you already familiar with yoga, there are classes throughout the day and evening – you can see their full time table here.
I've been coming to Alissa's classes for years now – I cannot recommend her classes enough.  I started on the Introduction to Yoga series and have been hooked ever since! I regularly go to her morning class – I mean I even get up for her 7.30am Wednesday classes – so I must REALLY like them!  There is a lovely vibe before class starts, where we all usually chat about puppies! Classes themselves vary, depending on the type of class, but i guarantee you will leave which ever class you attend with a spring in your step!
This is what our lovely #fitnessinfluencers thought of the class:
" I thought Alissa was really approachable, friendly.  She made me feel completely relaxed and at ease whilst explaining all the movements in a way I could relate to." Jen
"Alissa is incredibly friendly and instantly made me feel at ease.  I'm a newbie to Yoga, but she took time to explain the basics.  For each move there was an easy and also more challenging modification – this helped everyone go at their own pace.  It was a great class & I'm looking forward to going back soon!" Sally
"It was my first time doing any form of yoga so I was nervous.  Alissa was so friendly that my nerves disappeared instantly.  I love the way she explained each move and gave us options to make it harder if we felt comfortable doing so.  I learnt a lot in the session and would definitely recommend." Evie
"Really enjoyed the class, I've only done a yoga class once before and felt totally out my depth!  But not this time, Alissa was fantastic as explaining all the moves, and stressed that we should only stretch as far as felt comfortable.  Will definitely be booking the beginners course." Delly
"I've done a small amount of Yoga previously but nothing on a regular basis and loved how well Alissa explained everything to us, she also gave you the reason why it was so important too!  I left feeling chilled out and felt it had totally eased some aching muscles." Emma
Find out more about Move Yoga here.
Reviewed April 2022
Disclosure: We were gifted our class at Move Yoga Harrogate however we pinky promised to only write a truthful account. Phew, we really enjoyed it! (otherwise that could have been awks!)
We are fast becoming #fitnessinfluencers here at Harrogate Mumbler.  Something I never thought I'd say!  But as we're getting older we're valuing me time a little bit more – and wanting to get a little bit healthier.  I guess after over a decade (for some of us) of motherhood – it's time to start putting us first!
We were kindly invited along to OneWellness in Harrogate – who put on a special Pilates class for us – run by the lovely Sam – better known to us at Harrogate Mumbler as Oobermama.  If you'd like to know more about Sam – watch this space #fitnessinfluencer Nic will be reviewing her specialist one to one classes very soon!
OneWellness Harrogate is a wellbeing and fitness club offering mind and body workouts. The last thing it looks like, or feels like is a gym!  I felt more like I was at a spa!  Which is exactly the vibe this tired 40something Mumma needed.  It's like an oasis of calm right in the centre of Harrogate.   They have a huge fully equipped gym space – the light just floods the room, as well as a beautiful studio.
Our class was an Introduction to Pilates class run by Sam.  It was the first time for most of us – Sam went round the room and got an indication of our experience and tailored the class accordingly.  She was just brilliant, at points we were doing pretty intensive exercises but she had us so wrapped up in conversation we didn't even notice!  Yes that's right – I was able to hold a conversation and do exercises at the same time!  It's amazing how less something hurts when you're distracted!
We came away from that class feeling invigorated and with a new friend!  Thanks for having us Sam – we loved it, and you!
Here's what the other #fitnessinfluencers thought:
"Incredibly knowledgable.  As a PT I feel qualified to be able to say her experience and ability to take on a class was second to none" Jen
"Class was amazing!  I had fun, felt at ease and the instruction was really clear.  I'm definitely still feeling the class benefits 2 days on!"  Zoe
"I really enjoyed the class and left feeling energised with a spring in my step! And the best thing was I didn't ache lots the next day, just enough to know I'd done something!" Evie
"Sam made me feel so comfortable and was able to suit my needs.  Loved how I used muscles I didn't even know existed!  Definitely want to do more classes" Nic
"The centre was welcoming, bright and relaxed, all the staff were incredibly friendly and Sam, who led the session was really knowledgeable.  She took the time to understand each of our own experiences with Pilates, then tailored the session appropriately." Sally
OneWellness Club – Harrogate is a Wellbeing and Fitness Members Club located in the heart of the town with a beautiful, dedicated Yoga, Barre and Pilates studio, light and spacious gym and wellbeing space.  Our team of Personal Trainers, Physios and Instructors deliver both gym and studio based classes and appointments.   Find out more about their membership and class packs here.  If you are interested in one of their classes, you can even try them for free!
If you're interested in seeing what OneWellness Club Harrogate has to offer, why not join them on Saturday 2nd April for their Festival of Wellbeing.
---
Reviewed March 2022
Disclosure: We were gifted our class at OneWellness Harrogate however we pinky promised to only write a truthful account. Phew, we really enjoyed it! (otherwise that could have been awks!
The Supper & Spa offer at Rudding Park makes a very luxurious treat a bit more affordable…..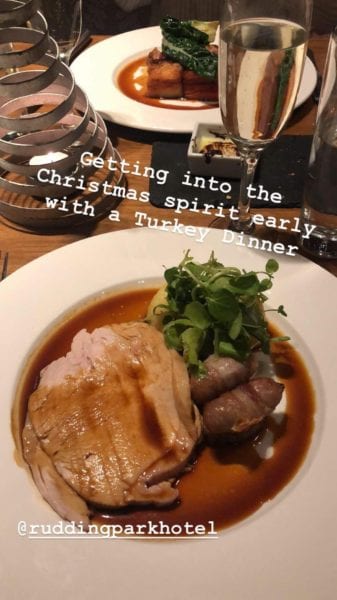 It really is the perfect place for a child free evening with the girls or a romantic date night. The Supper & Spa included a two course meal from 6pm followed by a few hours using the Spa facilities. Due to the timing, we were offered the festive menu, but on previous visits you tend to get a choice of 3 starters, 3 mains & 3 desserts. Drinks aren't included within the deal so you just pay for those at the end of your meal before heading off to the spa. The food was absolutely amazing and the service was top notch.
We followed the signs to the Spa and were given the wristband for access. First we headed downstairs to the Escape Rooms. There were 4 different rooms including the Visual Relax Zone, Sleep Zone (for those much needed Zzz's), Audio Relax Zone & the Mind Relax Zone. These rooms were perfect to just put your feet up and chill out.
The Rooftop Spa was our final destination. It is hands down one of the best spas I have ever visited, with such an array of different things to try out from infinity pools, hot tubs, saunas, tropical showers & even foot spas. For people who aren't drawn to the Spa experience, you'd definitely find something to do at Rudding. We enjoyed a refreshing strawberry daiquiri whilst sat in the outdoor hot tub.
I chose the Chakra wellbeing massage for my 50 minute treatment; I arrived 30 minutes early and was allowed access to the spa before and after. Chloe was my masseuse, she sat down with me beforehand and explained what the massage would entail and asked about allergies and the pressure that I'd like. The massage was very relaxing and peaceful. The rooms are very silent with just some light music in the background so you really do get a therapeutic experience. My massage was followed by some frozen grapes and rose flavoured water. I would highly recommend Rudding to anybody wanting the perfect spa day.
Having visited Rudding Park several times, Mumbler were excited to see the Supper & Spa offer at £99 for two people, so we booked it as a little Christmas Treat and were delighted to be offered a complimentary 50 minute treatment. However, no amount of lovely oils and relaxing music would make us give a dishonest review, so rest assured that this it really was this lovely!
It's a tough job but someone's got to do it.  This Monday I was invited along to check out The Harrogate Spa at the Double Tree by Hilton Harrogate Majestic Hotel and Spa.  The whole hotel has recently undertaken a massive refurbishment, with the Spa only re-opening a couple of weeks ago.  This was my first time at the Majestic, but my friend use to take her little boy swimming here and she couldn't believe the difference!  The once, leaky dark inside/outside corridor leading to the spa is now a beautiful, light filled space where you can relax between treatments.  As soon as you walk through the doors leading from the hotel the colour schemes, music and lovely staff all start making you feel super relaxed!
We were greeted by two members of staff who were lovely and gave us a quick tour.  We'd had our treatments booked for after lunch but after re-thinking we probably thought it would be better to do our treatments first.   The staff were really helpful and were able to accommodate our last minute requests!  We pre-ordered our lunch and off we went to get our spa on!  There's plenty of lockers (no loose change needed – all code locked), hairdryers and ghds (they really have thought of everything!).  Off we went robed up into Spa area.  There's a 12.5 meter indoor pool, surrounded by sun loungers as well as a range of thermal experiences including a spa pool, Himalayan salt sauna, steam room, Rasul, experience shower and ice fountain.  It all overlooks a huge patio area – which we were told will be open in the summer months, with outdoor dining tables and large sofas.  It's a real sun trap – so if you love vitamin D as much as me, this is a must to visit next summer!
First things first, we picked two loungers, lay down and chatted non stop!  As a mother, I really appreciate a spa day – especially with fellow Mummy friends!  I see my friend all the time – but we never usually get to the end of a sentence without one of our children interrupting us!  So to have 30 minutes of just lying down and having an uninterrupted conversation with an adult felt like a spa treatment in its self!  But we had work to do, so off we went and checked out spa pool (tough gig right?!).  We went on a Monday and we're very lucky that we had the place pretty much to ourselves.  Or at least thats how it felt, but when I look back there were probably about 10 to 20 other guests throughout the day – but there was plenty of space, and thing to do that it never felt crowded.  The sauna included a rose Quartz wall was my favourite, I wasn't too keen on the ice fountain – brrrrr!
We were then taken downstairs to the treatment area.  It certainly had the wow factor, and thats without the glass elevator (hopefully up and running in 2020)!  There are six treatment rooms, two of which are doubles and an amazing tranquil relaxation lounge.  I must mention there is also a fully equipped gym and studio which looked awesome, if you're into that sort of thing -I'm probably as far away from a gym bunny as you can get so it was wasted on me!
I went for The Harrogate Spa Signature ESPA Reflect and Renew Ritual treatment.  It was specially designed and exclusive to The Harrogate Spa.  My goodness, it was without a doubt the best treatment I had ever had!  I couldn't believe how many things were included in the treatment, from a foot spa, to a full body scrub followed by a full body massage and finished off with a scalp massage.  I would thoroughly recommend.    There's a great range of treatments on offer, something to suit everyone.
After floating back to the once leaky inside/outside corridor our lunch was waiting for us.  It was delicious!  They offer full spa days with your choice of lunch or Afternoon tea.  Everything on the menu looked yummy.  And the views over a sunny Harrogate were lush!
We then spent the rest of the afternoon taking full advantage of the steam room, sauna and pool.   You can book Spa days from as little as £60 for a half day.  A very competitively priced spa, in a serene setting with lovely attentive staff.    We didn't want to leave, but we had children to pick up! All of this was on our doorstep and we were home in time for school pick up.
A great centrally located spa, if you're looking for a little time out from hectic family life, then I would thoroughly recommend The Harrogate Spa.  The perfect  gift for any busy parent!
For more information click here.
Disclosure: Mumbler was lucky enough to try out The Harrogate Spa for free however we pinky promised to only write a truthful account. 
The Harrogate Spa kindly invited us down to review their Spa facilities, just in time for Mother's Day!  We couldn't think of a better treat for all those tired Mammas out there.
So off we went, three very tired Mum's for some much needed ME time.  First things first though, school drop off!  One of the big advantages of The Harrogate Spa to me is the location.  Located right in town it means, there was time to do the school run, pick up a coffee and arrive in time for our 10am start.
Day Spa Packages include a 50 minute treatment, with 4 hours (10am-2pm or1pm-5pm) access to their spa facilities which include pool and experience shower, ice fountain, spa pool, steam room and hymalayn salt sauna.  Also included is afternoon tea or lunch.  £90 per person Monday – Thursday, £110 per person Fri-Sun.
We were treated to full use of the Spa facilities, a mud rasul and afternoon tea.  I can't tell you how nice it was to sit back and relax for a few hours.  The spa itself is quiet and calming – which we all loved.  We never felt rushed or crowded.  In fact, at one point I think we had the whole spa to ourselves!  The staff were absolutely brilliant.  The mud rasul was great fun – I would highly recommend booking this – especially if there is a few of you, and my hair looked AMAZING over the next few days.  The Afternoon tea was a great finish to the perfect day.  We were done and dusted by 2pm, all feeling a million percent better, and all home well in time for school pickup – and the return to chaos!
We couldn't think of a more ideal gift for Mother's Day than a Day Spa at The Harrogate Spa.  They also have a fantastic Mother's Day lunch offering at Carter's restaurant that looks amazing!  They got me at unlimited Yorkshire puddings!  More details right here : Mothers Day Sunday Lunch 2022
What Evie though:
"Wow! What a fantastic day we had at The Harrogate Spa at the Majestic Hotel.
The team who works there are all very friendly, helpful, and attentive, particularly Craig, Adam & James.
We had full use of the spa facilities on our visit including the swimming pool, spa pool, Himalayan salt sauna, steam room, experience shower and ice fountain. We also had the opportunity to have a Mud Rasul – amazing experience, do try it if you can. 
After feeling fully relaxed and pampered, we then had the most delicious Afternoon Tea. 
Cannot recommend enough and looking forward to visiting again soon!"
Nic's review:
"Such a wonderful morning spent at the Majestic Spa, a real treat! We were given such a warm welcome and the staff were super helpful. I love how modern the interior is inside with spacious changing rooms which are lovely and clean.
The pool area is beautiful and so relaxing and I particularly loved the sparkly ceiling lights above the good sized swimming pool.
The Swedish style sauna was really special with the rose quartz wall and the steam room with the blue lighting really helped me to unwind.
I got to try out the mud rasul treatment too which is a real sensory experience. Done in a specially equipped room the three types of mud for applying to face, body and hair were really detoxing. Loved the steamy environment and the rainforest showers for both standing and sitting which were really effective.
With plenty of lovely loungers and outside space too there are plenty of places to relax.
And to finish it all off a delicious afternoon tea! I was literally walking on air as I left feeling throughly chilled out. With lots of great packages to choose from I'd definitely recommend and can't wait to go back again soon!"
For full details visit www.harrogatespa.com
Membership enquiries: membership@harrogatespa.com
Day Spa Experiences: relax@theharrogatespa.com
---
Reviewed February 2022
Disclosure: Mumbler was lucky enough to try out The Harrogate Spa for free however we pinky promised to only write a truthful account. 
Thank you Harrogate Spa for making three tired Mum's very happy, and a little more refreshed than we usually are on a Friday afternoon!