About Us
Welcome to Harrogate Mumbler!
Harrogate Mumbler is run by local mum of two Sally Haslewood, and has been her third 'baby' since launching the website in November 2012.

Sally was born and brought up in Harrogate and is a passionate advocate of the town and all of it's lovely people. After 12 years of living away and following her husband's job (who was serving in the forces back then) Sally came back home to settle once again in Harrogate just four days before her second daughter was born.
Familiar with the town, but unfamiliar with it's parenting community Sally saw a gap in the market and Mumbler was born. Initially as a Facebook chat group in 2011 it's popularity rapidly grew and saw the launch of the Harrogate Mumbler website in 2012, the first Mumbler Awards in 2013 and the first franchised Mumbler site in Hull in 2014.
Sally spends most of her time glued to her iPhone, shamefully overusing social media, whilst desperately trying (and failing) to get her teenage daughter to spend less time overusing social media!
As well as a husband & 2 kids, Sally's house is something of a zoo, as she has a large lazy goldendoodle, 5 pekin chickens and a lionhead house rabbit. Sally can often be found on a local dog walk, which is where she finds a bit of peace to think but she likes nothing more than that deep sigh of relief when the kids are finally asleep and that bottle of wine is cracked open…
---
Meet the rest of the team!
Kayti
Kayti moved to Harrogate from London in 2018, with her husband Joe ,originally from Harrogate, and their little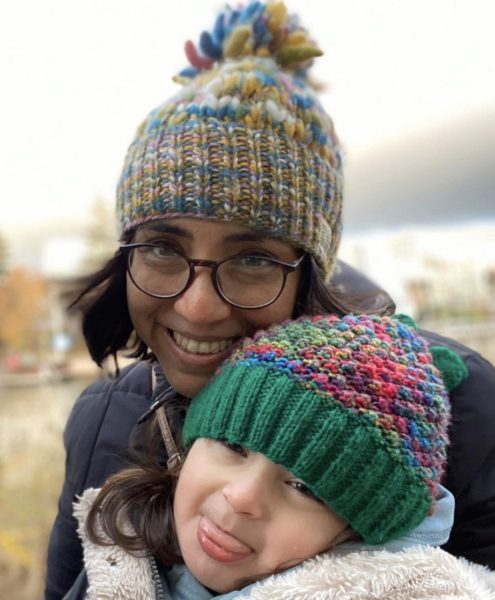 daughter Esme.  Not knowing the area or anyone in it, she took full advantage of the Harrogate Mumbler website and FB group and pretty much discovered everything child related going on in the town, and made a fair few  friends on the way!  Having volunteered for Harrogate Mumbler as a guest blogger for over a year, Kayti is now a fully fledged member of Team Harrogate and is responsible for what goes on at Harrogate Mumbler!
Now that her mini-me has started school, Kayti is fully embracing the coffee culture that Harrogate is renowned for, and can be found nursing a flat white most Friday mornings after drop off.  Weekends are usually spent in Valley Gardens or at kid's birthday parties!  Like Sally, she also spends far too much time on social media, it's amazing how much time you can spend looking at photos of other people's food!  As well at looking at other people's food, she also really like to eat it!  She's a big fan of the independent food and drink scene in Harrogate.
Kayti also sees herself as a bit of an expert when it comes to watching TV!  Reality TV, soaps, dramas she loves them all.  So if you're ever after any recommendations – she's your woman!
---
Evie
Evie, her son Edward and their dog Bear live in the wonderful community of Bilton in Harrogate.
Having lived in Harrogate before, but not as a parent, when Evie returned to the area from Cumbria in 2017, Harrogate Mumbler became a lifeline. Many existing friendship groups had changed and Evie enjoyed the community Mumbler immediately offered. It is like another great friend who you can turn to for advice, guidance, and great ideas when you are in need.
Joining Team Harrogate in September 2019, Evie is responsible for engaging with the local community and raising awareness of what we do through the powers of Instagram. She also produces and sends the Newsletters to give parents a helping hand on "What's On" over the school holiday's.
When not in Mumbler HQ, Evie can be found on a local walk, jumping in muddy puddles with Eddie and Bear, building train layouts or Lego at home or taking Eddie on adventures on buses or trains. When she gets a chance to put her glad rags on, she loves nothing better than to visit one of Harrogate's great independent Cafes or Bars for a wonderful hot cup of Yorkshire tea (or a refreshing G&T depending on the hour) and a good browse on social media without a little voice saying "play trains Mummy"!
---
A general note about advertising on Harrogate Mumbler.
"Harrogate Mumbler is my job and and I am one of the lucky few who gets to make a living doing what I love. Whilst I will never charge mums for using my site, companies do pay me to advertise and to promote themselves on this website and social media and I make no secret of that. It is very similar to how traditional advertising works, like in a magazine or local newspaper or radio.
I also subscribe to affiliate schemes whereby if a Mumbler clicks a link on my website and purchases an item then Mumbler may get a small commission, at no extra cost to the customer. I will only put items on that are relevant to my blog and the Mumbler community  or if I have or would use them myself.
I closely vet the companies and service providers who approach me and I regularly I turn down all sorts of things because I don't like the company, the product, or don't agree with the brand's ethos, or don't think it's relevant to my Mumbler audience or even if it doesn't "feel" right (yes, I am that vague).
Whenever I do talk about a brand or a product, it's because I genuinely like it and think that the Mumblers might too. I'm always honest, I won't recommend someone or something if they are secretly a bit rubbish- even if I do get a free meal out of it!
Sally x