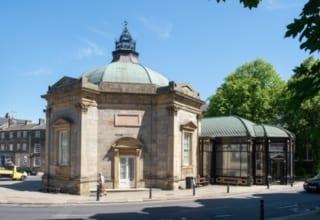 There's always lots for families to do at Harrogate Museums and Gallery!  Games, dressing up, trails, art materials and children's books are just some of the activities available.
Our Family Explorer Pass gets you free entry to both museums (the art gallery is always free) for just £30 a year for 2 adults and 3 children over 5 (under 5s are free).  Other passes are available to suit your family.
---
At the Royal Pump Room Museum in Harrogate smell the stinky sulphur water that was drunk by hundreds of people each morning, back when Harrogate was the place for health and happiness visited by the rich and famous.  See and smell the original wells on a tour, discover the spa treatments, beautiful clothes, toys and household objects from the people of Harrogate past.  Enjoy further back in time with our Ancient Egyptian displays.
Opening times: Monday to Saturday 10am until 4pm and Sunday 12pm-4pm
Royal Pump Room Museum, Crown Place, Harrogate, HG1 2RY | 01423 556188 | museums@harrogate.gov.uk
---
At Knaresborough Castle and Museum take in the beautiful views and discover the dungeon, ancient graffiti and special secret underground tunnel.  It may seem peaceful now, but the castle was once a mighty stronghold of medieval kings. Inside the museum you'll find tales of local characters including Blind Jack, Guy Fawkes and Mother Shipton. You'll also find the rare, original Tudor court room where suspected criminals faced public trial as well as family activities.
Open daily 11am to 4pm until 11 September and then weekends until 2 October
Knaresborough Castle and Museum, Castle Yard, Knaresborough, HG5 8AS | 01423 556188 | museums@harrogate.gov.uk
---
The Mercer Art Gallery in Harrogate is a relaxed, welcoming art space with changing exhibitions to suit everyone.  Our art trolley is always full of art materials to give the whole family a chance to get creative.
Opening times: Monday to Saturday 10am until 4pm and Sunday 12pm-4pm
Swan Road, Harrogate, HG1 2SA, 01423 556188 | museums@harrogate.gov.uk
---
For full details of our museums and gallery visit www.harrogate.gov.uk/museums
Bracken Hall Countryside Centre and museum is situated on the edge of Shipley Glen, a popular beauty spot. The Centre has displays relating to the natural history, geology, archaeology and local history of the area. The colourful interactive wildlife exhibits delve into the lives of badgers, frogs and bats. There are interactive displays about other animals and foodwebs.
The small charming garden attracts different kinds of wildlife throughout the year from tadpoles to butterflies and honeybees. The garden is designed to show how people can attract wildlife to their own gardens, and also features bee-hives and a pond.
Bracken Hall Countryside Centre, Glen Road, Baildon, Shipley, West Yorkshire, BD17 5EA   telephone/fax: 01274 584140
Dramatic moorland rock formations. Explore Brimham Rocks, and have a great day out at nature's playground.
This amazing collection of weird and wonderful rock formations makes a great day out for families, climbers and those wanting to enjoy the simple pleasures of fresh air and magnificent views over Nidderdale.
There's no admission charge at Brimham Rocks. Parking is free for National Trust members.
Non National Trust members, our car parking charges are as follows: £6 up to four hours, £8 thereafter
Brimham Rocks Summerbridge, Harrogate, HG3 4DW, Telephone: 01423 780688

Danes Dyke; Jutting out miles into the North Sea, the headland has in the past been effectively cut off by the construction, in the Iron Age, of the erroneously named Danes' Dyke, which encloses five square miles of the peninsula. The end of the Dyke is a deep ravine on the south side of the Headland, where it exits into Bridlington Bay There are a number of nature trails in the Dyke which can be accessed easily from the car park off the main Bridlington to Flamborough Road.
Danes Dyke, Flamborough Head, Flamborough, East Yorkshire YO15 1AG
With nine floors of galleries to explore, three cinemas including Yorkshire's biggest IMAX screen, and a packed programme of events, you're sure to find something to inspire you.N
ational Media Museum, Bradford, West Yorkshire, BD1 1NQ
Open Daily 10-6pm (Museum and Shop)
Free entry to museum.
"Cheap day out tip: We've been here today it's just near the airport-go up pool bank, over the traffic lights at the top, then left at the next set of lights, follow it down and it's on the right, you'll see a wind turbine and signs for a farm shop.
There's no fee for going round the animals, they sell sandwich bags of food. The animals all know that you're coming with food and come up to say hi and they've got new piglets there too. They also have an indoor play area for under 7's which is very low cost, it had a few cosy coupe cars, large sandpit and a plastic climbing frame/slide set-it kept two nearly 5 year olds occupied long enough to let the Mummy's have a coffee. Definitely worth a visit in my opinion " Mumbler user review
The North York Moors National Park is a beautiful landscape of stunning moorland, spectacular coast, ancient woodland and historic sites.
Find out what there is to see and do and discover how the National Park Authority works with the people who live here to care for this beautiful place.
Peasholm Park Scarborough, North Yorkshire is open for everyone to enjoy all year round, 24 hours a day and seven days a week. Entrance to the Park, which is never closed, is FREE.
Facilities:Sun Parlour Cafe, Childrens Play Area, Maze, Football pitch, 3 Tennis courts, Flat Green Bowling, 18 hole Putting and 9 hole Crazy Golf.
Opening times
Daily 10am – 5pm The museum is closed 24-26 December.
Admission
Free: some events may be chargeable.
Address
Royal Armouries Museum Armouries Drive Leeds LS10 1LT
Wentworth Garden Centre Hague Lane, Wentworth Rotherham, South Yorkshire
S62 7TF Phone: 01226 744842
We're home to over 300 years of history and over a million wonderful objects. Visit us and you can marvel at iconic locomotives, watch engineering work in progress in the Workshop, browse our object-filled Warehouse, and let off steam in the outdoor play area. Younger visitors will love letting off steam in our railway-themed outdoor play area. Plus, you can take a ride on the nearby miniature railway and enjoy the scenery
NRM York, Leeman Road, York, YO26 4XJ
Opening Times 10am–6pm daily Closed 24, 25, 26 Dec
FREE ENTRY