About 3 weeks ago, Mumbler was asked to go and try out Harrogate Climbing Centre, see what we thought and write a review. I thought, "great – it's Half Term, that will fill up a morning/afternoon and the mini Mumblers (Harry, nearly 6 & Louis, 4) were dead keen. Fast forward to this afternoon, as we are getting in the car, Harry changes his mind and doesn't want to go!!!! By the time we arrive he is in a full blown "teenager-style strop" so it
 was with a certain amount of trepidation that we went in.
The Climbing Centre was about half full and a very nice man spoke directly to the boys and took them off to get their safety harnesses on. As you can see from the picture, moods had not improved much!
However as soon as we went in and they saw the Climbing walls and their instructor, Rory started a game where they had to run around and when he shouted "sharks coming" they had to get their feet off the floor, spirits definitely lifted. (Phew!)
The boys took it in turns to climb with constant encouragement and instruction from Rory, and whilst one was climbing, the other was sitting and was attached to the same rope to anchor his brother. I really liked the fact that it was teaching them to keep each other safe (the instructor also had hold of the rope just to allow for lapses in concentration!!).
They played various different games to teach them to trust the ropes that were holding them up, listen to the instructions, concentrate and (miraculously!) to do as they were told. (I'm hoping that some of this will transfer to their behaviour at home.)
The boys were given the chance to have a go on several different climbing walls and to go into the "Bouldering Room" – which is small walls, no ropes and squidgy floor.
I am very pleased to say that after a rocky (!) start they absolutely loved it and have asked to go again tomorrow and maybe even start lessons.
The facilities were great, lots of much higher climbing walls than i was expecting, a safe place to watch, although there was only 1 sofa, so if it's busy be prepared to stand and watch. Cafe Indulge, next door, has lots of seating so you could always escape for a coffee whilst the kids are climbing.
The staff were really friendly and patient and I would have been totally confident leaving the boys to have their lesson  – they didn't actually come over once during their hour-long session.
Although we have been invited along for a free taster session, we would not recommend anything the kids hadn't enjoyed…….but they loved it (Rory, we will be back!).
There's lots of kids session on over Half Term and they offer group sessions, parties and the opportunity to work towards national climbing award schemes.
http://www.harrogateclimbingcentre.com/climbing-centre/
We recently had to cut our holiday short due to bad weather we've had in the last few days (camping in the rain at Filey can be endured for a while but not much fun for more than a couple of days!) so we found ourselves with a 'bonus' family day yesterday and decided to spend it wisely by visiting one of our favourites, Beningbrough Hall. We've been so excited to check out the play equipment and now that dogs are allowed in most of the areas (as long as on a lead) it meant that the whole family could go along – 4 legged and 2! So off we went.
We met the Mumbler grandparents there who were looking after my 2 mini mumbler nieces so with a 3, 5, 7 & 9 year old plus 30 somethings and grandparents… we had all ages covered and were ready to thoroughly put it all to the test!
We became members of the National Trust again this Spring as we're lucky enough to have 3 properties in York (Beningbrough, Goddards and Treasurer's House) and many more not too far away – plus when we're visiting friends and family in different areas of the UK there is always a National Trust place nearby so it ends up being great value.
We've already been to Beningbrough Hall a few times this year, my girls loved the Owl Adventures that were on at Easter and remember the storytelling very well,  but it was lovely to return in the full sunshine (which came out the minute we hit the A64 on the way back from camping by the way!) and ready to test out the new features.
We got the handy information booklet about where you could take the dogs. Basically they're welcome almost everywhere as long as they are on short leads.
The exceptions are inside the Hall itself, the Victorian Laundry, the Restaurant and also the Walled Garden and Children's play area.
There are plenty of walks around the grounds that they can come with you though and of course the huge parkland surrounding the Hall is a brilliant dog walk.
We always like to walk along the banks of the river if we have time to make a full day of it. Beningbrough have also provided dog waste bins and water bowls so your 4 legged friends are well catered for!
When we got there, we were keen to check out the play area first so we headed straight down past the Hall (with a quick stop at the Potting shed – always a favourite to play the game of 'can you find these 10 things') and I have to say I was hugely impressed! The whole area is within the woodlands so there is LOADS of shade. The new play equipment was an instant hit with the 5 & 7 year old (they all loved it) and they couldn't wait to get climbing up the rope bridge and down the big tunnel slide. There is also a fab den building area that kept them all occupied for ages Meanwhile we were able to enjoy a peaceful cuppa in the nearby cafe while the 9 year old was given strict instructions to be 'in charge' and look after her tiniest mumbler cousin… a job that she loves! And she took the hit of pushing her on the swings for, what feels like, 10 hours, but is more likely about 5 minutes. They loved the wobbly walkway and the pirate ship plus of course they all spent ages on the swings, they have a couple of those big rope / disk swings that are always a hit too. You can see a fab video of the new area here…
After a very restful start for us, and a great fun play for the kids, we explored the walled gardens. A really nice touch, that I haven't noticed before, was that they had some watering cans out and we were encouraged to help water the vegetables. The mini mumblers got stuck straight in and the Beningbrough Volunteers kindly directed the children to the most 'parched' plants!
As always, the Blooms, Flora and Forna on display were really superb. We set the mini mumblers on a game to find out if there were more butterflies or more bees there (it turns out the answer is bees.. over 100 were counted but only around 50 butterflies… most importantly it took the mini mumblers a good 15 minutes to do this important wildlife check!)
We stopped for a gorgeous lunch at the walled restaurant – again a great selection of food for kids and adults. Lovely homemade options and we found there were some really reasonably priced choices… less than £5 for a kids lunch box and only £4.75 for a really substantial and delicious sun blushed tomato sausage roll for me which was plenty to fill me up. The kids loved playing in the enclosed grassed area while we were finishing off our lunch too – plenty of cartwheel and hand stand practice went on!
Last stop for us was the Hall itself. As always it was great to see the beautiful building and nice to see the different things the mini mumblers pick up on each time. Of course the bathroom and toilet is always a hit! It was lovely to see a gorgeous bridal dress on display in one of the bedrooms. The kids loved having a little dance in the hall with the cushioned floor and the big hit was on the top floor as always – they could dress up and post for their portrait as well as get a digital portrait displayed on the wall… this provided a good 20-30 minutes of amusement for them all.
We really did enjoy the day at Beningbrough. The thing we all agreed on was how relaxing it actually is for the parents and grandparents and also how much 'old fashioned' fun the kids can have. There was no shortage of tree climbing, rolling down hills and tonnes of imagination used in our 7 hours there.
Nestled between York and Harrogate in the beautiful North Yorkshire countryside is Beningbrough Hall, Gallery and Gardens and you'll find something new and exciting in the wilderness play area. A fantastic 7 metre pyramid tower now peaks out between the trees. The new play equipment has a climbing wall, two slides and a rope bridge which will entertain toddlers and teenagers alike. Head over with all the family this summer and whilst you're here make sure you stop by the new Brew House which serves lots of refreshing treats.
We're open every day in August, 10.30am – 5pm with special led activities scheduled on selected days.
See the website for what's on when.
T: 01904 472027 
FACEBOOK
TWITTER
INSTAGRAM
300 weekend adult early bird tickets for the tenth edition of North Yorkshire's Deer Shed Festival will go on sale tomorrow (Thursday 6th September) at 10am. Deershed isn't a cheap way to spend a weekend, so Harrogate Mumbler went along for the first time to see if it is worth it. What can I say? we absolutely loved it and have been raving on about it ever since. Is it for you? Read on to find out…
To set the context, I've been to plenty of festivals in my time, throughout my misspent youth, and even as recently as Download in June 2018, however never before had I considered (for a second!) taking the kids. Honestly, I had always viewed the festival experience as my away-time from the kids, a chance to listen to loud music and basically, well, not be mum for a weekend!
It was impossible not to hear the buzz about Deershed though, it's only about half an hour away from Harrogate, near Thirsk and many of my friends already go year on year. I decided to give it a try with the famalam and managed to blag the motorhome off my parents (you can read about our 2017 adventures in "Dora the Explorer" here)
Deershed isn't a day event, the tickets are for the whole weekend. You can either camp, take a caravan/ motorhome or if you really like a proper bed, it's close enough to drive home each night (not that I'd recommend that- there were far too many delicious gin cocktails on offer… more on that later!)
My two daughters are 7 & 9 years old and they were incredibly excited at the prospect of going to their first festival. We had done our prep and had purchased glitter & hair mascara- Even Mr Mumbler's beard got the festival treatment! My first impression of the site was how colourful, welcoming and relaxed it felt. The camp sites are all just outside the main arena and within easy walking distance. The campsites have porta loos and (chargeable) showers. It's not glamorous, but as a seasoned festival goer I can report that as festival loos go, they were as clean as I've ever seen. The campsites were well spaced and they were quiet after dark- everyone is in the same boat of wanting to get their kids to sleep after a full day of festival fun. Basically almost everyone who goes to Deershed is a family- from brand new babies right up to teenagers and every age in between.
Inside the arena, it's big enough to keep everyone entertained without feeling vast or unsafe. I was able to give my two girls a bit of freedom without feeling like they would get lost or overwhelmed. Moreover, the younger children are given a specific coloured wrist band and if a member of staff spots them alone, they will help re-unite you (for once, my girls actually didn't test this facility!)
The main stage is situated at the bottom of a gentle hill which ensures that everyone has a god view. Families wisely took in camping chairs, rugs, sunshades and the true Deershed professionals took lights and decorations for the fabulous little pull-along carts that you can hire. (These are invaluable for pulling along little-ones or allowing them to snooze when they're legs are done in)
The mainstage, wasnt actually the highlight for me though, whilst I really did enjoy the bigger bands, it was the smaller stages that did it for me. Sitting in the sunshine while the kids did some crafting, listening to some immensely talented young musicians whilst sipping a gin was just perfect!
Keeping the kids happy and entertained was where Deershed excelled. Our 4 favourite bits were as follows:
1. The Wilder Wild. This is a smallish area off the main stage in the shade. Mainly for crafting (most of which was free) my girls could have spent the full weekend in there. Particular highlights were the clay crafting (free) the Willow Weaving (free) and the free junk modelling (mercilessly shoving the kids aside, I made an amazing jellyfish model- I love a bit of crafting! ;)) My daughters also made a vinyl record mirror, leather bracelets and rode a cart pulled by a beautiful Newfoundland dog, they also listened to a fantastic interactive bedtime story around the campfire before bed.
2.  The Science Tent. What a cool place! With everything from programming, bodies, planets, music, Meccano, slime making, VR, and so much more (again, most of it free). I embarrassed myself by not being able to order the planets correctly (My nine year old could do it of course: "There's a nemonic, don't you know Mum … My Very Enthusiastic Mother Just Served Us Noodles"- alright sweetie, no-one likes a show-off…" )
3. The comedy tent. I loved this! Some of the acts were pretty risqué,  but they went entirely over the head of my 7 year old. My 9 year old however, thought that the acts were hilarious- any mention of toilet humour or body parts and she's a fan.
4. The Food & Drink. What can I say, Wow, just wow! I had intended on making packed lunches and generally economising on refreshments but this idea went straight out of the window when I saw the quality and variety of the food on offer. Naturally, only because I want to give a thorough review of the offering, I sampled as much as possible…. From Greek food to Indian, Churros, Pizza's Burgers, Cheese on toast, Fish and chips, fish finger sandwiches (yes, a whole van dedicated to the provision of this awesome food!) Tibetan, Tacos and just about everything else that you can think of.  And it was ALL amazing! With regards to the bars, they were plentiful and the offering was varied. There were plenty of beers, cocktails I could go on at length here but i will give you the idea that I'm some kind of lush, who sits in a field at a festival drinking copious amounts of gin… ahem. Anyway, the bars were great- one was actually like someones front room, complete with sofas-a-plenty!
I'm running out of space now, to tell you more about this amazing festival, some of the things that I haven't even mentioned are the MASSIVE sports arena, which hosts tons of sports. All of the time. Quiddich anyone!? More traditional activities included Yoga (it was lovely to see our favourites, Go Yoga there, crazy & disk golf, football, parkour, sock wrestling ( I have no idea what that is either…).
There was tree climbing (with harnesses right up into HUGE oak trees) and walk about entertainers seemingly everywhere. I bumped into this BRILLIANT marching band on my way back from the loos.
I haven't even touched on the DJ's, the theatre, the shows, the cinema (showing family favourites such as The Greatest Showman & Moana) the poetry & spoken word, the canoeing on the lake, the shopping or any of the pre-bookable workshops.
What I really loved was the attention to detail for families. The NCT were there and they hosted a group "baby bathtime" They also had bottle warming facilities, equiptment seterilising facilities and highchiars. You could even buy nappies on site if needed. The toilets had hand wash at 2 heights to ensure that little hands got cleaned too. There were swing ball sets all over the site, which allowed you to sit back and watch while your kids played safely. There were ear defenders on sale and the whole place had a total "families completely welcome" vibe.
Don't get me wrong, taking your kids to a festival is never TOTALLY relaxing. By the end of the Sunday, you could see parents nerves were getting frayed (or maybe that was just me, trying to stay cool and all festival-chic" whilst nursing a slightly throbbing (and totally deserved) gin- hangover.) but all in all it was completely memorable and a brilliant experience.
Would I go back? Absolutely, in a heartbeat. I spent more time with my kids, crafting, playing and just chilling than I ever normally do; even at a weekend away somewhere. 
If you've ever wondered about festival-going then I can't recommend Deershed high enough. It's just fabulous. 
Deer Shed Festival began as a one-day, 1000-capacity event in 2010, in contrast, 10,000 attended Deer Shed Festival 9 in 2018 to witness its biggest ever music, arts and science line-up, with household names like Goldfrapp headlining the music bill and James Acaster headlining the PG comedy big top tent.
Deer Shed 10 will for the first time, allow general ticket holders to say on Sunday night. Previously, the Sunday night offering was an additional extra, with the festival proper closing at 6pm to allow families to get home at a sensible time.This new change means more bands, more acts, and the biggest Sunday night party Baldersby Park has ever seen, all at no extra cost to the festival goers!
2019 dates are 26th-28th July (one week later than usual)  Deershed is at Baldersby Park, Topcliffe, North Yorkshire
Disclosure: Mumbler was lucky enough to receive press tickets to this festival for free however we pinky promised to only write a truthful account of our weekend. Phew, we LOVED it! (otherwise that could have been awks!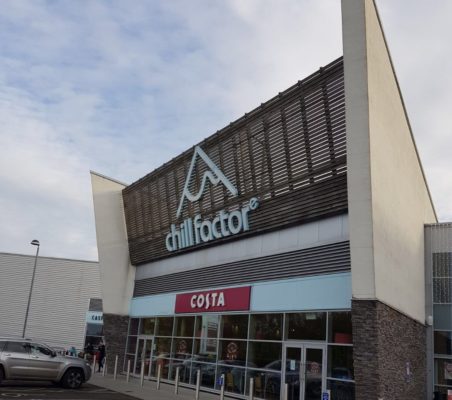 It's a tough Job but someone's got to do it. Mumbler Dads David & Jo were invited to try a snowboarding lesson at the Chill Factore in Manchester, read about their experience here:
"With us both being married to 'Mumbler mums' Jo and I are used to having to make sacrifices for the great good of Mumbler.  And so once again, we graciously gave up what we feel is the highlight of our week, (looking after our kids on a Saturday afternoon) to go off and review a snowboarding experience.  Obviously it was a huge grind but that just the kind of guys we are, always willing to go the distance for others……..
Ok, I realise no-one is going to believe that so let's just say we said yes quicker than you can say 'apres ski' when our wives asked us if we fancied going off on our own for the day to visit Chill Factore (the UK's longest indoor real snow slope) in Manchester.
So here's our thoughts on the experience…..
Firstly, getting there.  It's based at the Trafford Centre so it doesn't matter where you are coming from, make sure you allow plenty of time to get there and by that, I mean anticipate traffic getting from the M60 into Trafford Park itself.  We were told to be there 45 minutes before our lesson started so I planned our route accordingly but because it took us so long to do the last couple of miles we only got there 15 minutes before we were due to start.  Fortunately, it wasn't a problem as from the moment we arrived, it was clear that they are running a well-oiled machine.  Whilst there was a small queue at check in, there were staff on hand walking the queue to see if we already had a booking in which case we were taken straight through to where you get your clothing. From our experience, all staff were hugely friendly and helpful.  No grunting teenagers here!
In terms of gear, if you are like Jo and take your skiing seriously then you can of course take your own gear.  Not knowing the score beforehand I'd borrowed some of his spare gear.  However, the majority of people who use the facilities don't tend to own ski gear so your booking includes a set of salopettes (ski trousers), a ski jacket, and a decent pair of thermal gloves which you get to keep which I thought was a nice touch (no pun intended).
There looked to plenty of sizes and they cater for children of all ages.  Obviously good clothing is important because out on the slopes it's -5°C.  Speaking to the other students in my group, I can confirm that the provided clothing kept them nice and toastie for the duration of the session.  What I also really liked was the fact that the instructors were using the same kit as the students, even down to their snowboards and skis.
As soon as you get your clothes issued, you are signposted through to the changing area where there are plenty of private cubicles.  We also noted that there were also group changing facilities (which I assume you can use as a family). Once changed you can then store your personal clothes in lockers which require a £1 coin (refunded when you unlock it).  These are big enough to store kit for two people so Jo and I both managed to get all of our kit into a single locker.  Following a quick toilet trip (loos were very clean and I noted both disabled and baby changing facilities) we went off to the equipment area.
If you are snowboarding then it's a very straightforward affair – you just need your shoe size and an indication of your leading foot to determine what size of boots you require.  If you are skiing then it's just a couple of extra measurements to work out what length of skis you need.  Once ready we were sent over to a numbered bay where we were able to sit down on benches to await our instructor. It all felt very smooth and well organized.   From arriving to being ready to go it took around 25 minutes but I'd imagine with a couple of kids this would take more like 40 minutes; hence why they ask you to arrive 45 minutes before your session begins.
Our instructor for the day was a guy called Danny and he looked and sounded exactly like you would expect (and want) from a snowboard instructor.  Think a Mancunian version of the Turtle from Finding Nemo! Danny is a total dude, very easy going, taking the time to learn each of our names and making us all feeling at ease.  What made him a great instructor in my view was not only the structured way he delivered the session, (taking into account each individual's natural abilities and reason for wanting to try snowboarding,) but it was clear from the start that he had a real passion for the sport.
Danny explained that he has been a snowboarder for 12 years, having spent the last 6 years teaching it in Japan, Canada, and the US.  What was nice was a little speech he gave at the end of the session about what snowboarding meant to him.  It wasn't a sales pitch trying to encourage people to come back for more, just an overview of what part it's played in his life and how he feels it can benefit people.  He even told us that he's now got his 3 year old son into it!
Our group of 8 was made up of people who varied in age, physical confidence, and natural ability.  For example, whilst Jo's somewhat of a skiing-pro having been doing it for 30 years and has some previous experience of snowboarding, I myself have only been skiing twice (where both trips I spent more time in the bar than I did on the slopes!) and have never done snowboarding so I was very much the novice.  We also had people in our group who had never set foot on a ski slope before.  Danny's work was cut out but he handled it really well and made it fun for everyone in a patient and non-patronising way.
The session lasted around an hour which absolutely flew by, with Danny delivering it in a very progressive and methodical way including an introduction to the equipment along with skills such as sliding on the flat before climbing up and sliding down a small section of the slope. It was pretty basic but this was known as the Snowboard Fun Taster which did it's job of leaving me wanting more.  And this is where the Snowboard Progress Card comes in.
Issued to you at the end of the taster session this record of your learning shows you the various steps to becoming a snowboarding god from beginner level 1 to 3 on the beginner slope, through Improver level 4 to 6 on the main slope, to Development level 7 to 9.  It was all a lot of fun and I would say that the best way to get the most out of it whilst speeding up your progress would be to do a session in the morning with a break for lunch followed by another session in the afternoon.
Around our session it was clear that kids of all ages are well catered for.  As well as the main slope (which is huge and features a 'button drag' style ski lift) the beginner slope (which is shorter and less steep featuring a 'magic carpet' style ski lift) was full of children from toddlers to teenagers learning to ski (and doing a lot better job at it then I ever did!).  With crash mats in place at the bottom of the slope and good instructor to student ratios it all felt very safe in a fun way.
Away from skiing and snowboarding there were toboggan runs for children and adults (which looked a right laugh), a children's play area in the snow (Mini Moose Land for children and toddlers under 4 years old), and for those who just wanted to watch the fun from a distance (grandparents for example), a really good viewing balcony which is free to use.  Off the slopes there is also a climbing wall, free ping-pong tables, and around Christmas a Santa's Grotto for the little ones (although I think you have to book this in advance).
All this activity leads to empty tummies so fortunately there is a variety of restaurants and café's onsite including a Sports Bar (with live sport on the TVs), a Wetherspoons, ice-cream and pizza shacks, and of course, the ever popular Nando's. Upstairs there is a really cool area which as well as an Alpine style café called Mont Blanc also features a private room called 'The Eiger' which looked perfect for kids birthday parties or group / team events.
There is also a good selection of shops including ski and walking gear (Snow & Rock and Subvert), Crystal Ski Holidays (if want to take your skiing seriously and book a holiday through a specialist ski travel agent) and a fitness and sporting goods shop.
Pricing wise, it's best to check the website directly as it all depends on your individual needs.  Speaking to the guy at the front desk they offer all sorts of schemes which change over the year to cater for group rates, kids parties, individuals or family packages, ongoing loyalty and discount packages, etc.
To put it in context, our Snowboarding fun taster session would costs £30 per adult (£27 off peak) and lasts for just under an hour so whilst it's not the cheapest activity you can do I found it very rewarding and a lot of fun. All in all it's a great day out either as a couple of mates or a fantastic treat for the family.  Given that you can buy vouchers for lessons it might also make a fantastic Christmas present!
Chill Factore,
Trafford City,
7 Trafford Way,
Manchester
M41 7JA
Disclosure: Chill Factore did provide the Mr Mumblers' with a free session each for the purposes of this review. The opinions that My Mumbler has expressed here is his own and he has decided that he would like to offer his review services to all "Dad" type products and reviews, particularly those which involve beer and days out with mates….