The mini Mumblers really love a burger and they had heard rumour that there is a place in town where you can get a burger in a donut, with a side of custard (to dip your chips in of course!)
Resistance was futile, and so we made a date to try out "Burgers & More" which is an independent restaurant below the Kimberly Hotel on Kings Road.  We went on a Sunday tea time, and whilst it was fairly busy, we hadn't booked and they managed to fit us in straight away.
The interior is great, it's below ground but it's bright and welcoming. There is a good mix of seating and it looked like it would cope with large bookings with ease.
The menu is extensive to say the least!
The kids both ended up choosing off the kids menu  (which had a  great selection- Chicken Goujons, Fish & chips (from Ramus), "Monster Burger" (with unicorn bread!)  Chicken Burger, Southern Fried Chicken, Pasta, Calzone & Pizza, all priced at £5.95 (Oct 2017)
They both chose the monster burgers and were absolutely thrilled with the amazing unicorn bread.
The adult menu is where the magic really happens… The donut burger is actually called the "Trump Burger" (Described in the menu as "that daft it might actually work") There were 22 different burgers on the regular menu plus 4 specials. Not only could you order them individually, you can choose a few of your favourites and get them in a "tower" which is 2, 3, 4 or 5 burgers in a stack.
As well as the burgers, there is of course the "& More" side of the menu. To be honest I didn't even bother looking at that. (Why would you? The Burgers are awesome!) If you do want to now about what's on the rest of the menu, you can see them on the Burgers and More website here
Anyway, back to the Burgers, I chose a special called "Burger Wellington" which was basically beef wellington (garlic mushrooms, pastry and all) but with a burger instead of steak. It was delicious! My husband chose "Jack the Lad" which was a special impregnated with more than a dash of Jack Daniels. He assured me that it was really good although he had wolfed it down before I had the chance to try it myself!
For desert, the kids both chose the sundae which was fantastic value at £2.45 for a massive helping of Vanillis ice-cream with cream, sauce and wafers.
I was extremely impressed with Burgers & More. The staff were really friendly and the food was fantastic. It's a real gem, an independent family friendly restaurant and I would urge you to get down there to try it for yourself.
Note- I wasn't invited to review Burgers & More, nor did I receive any free food! I just visited with my family and was really impressed.
If any of you are interested in the Burgers & More food challenge, you can see the competitive eating legend Adam Moran, "Beard Meats Food" demolishing the 100oz twin burger challenge at Burgers & More here.
I was a bit dubious when Revolution De Cuba invited us for a family lunch as I'd always associated the place with boozy cocktails and dancing into the early hours. But how wrong was I – it turns out in the daytime it's a really family friendly restaurant! Baby changing facilities, room for buggies and a great children's menu – Revolution De Cuba has it all!
The first big tick is how accessible the place is! We arrived, with a pretty big buggy and a sleeping toddler and we didn't have a single step to deal with! The place is so spacious we had no problem in manoeuvring the buggy about. There was plenty of space around the table for our buggy, a high chair and the million shopping bags we had with us. I noticed there were a few other families with buggies dining, and all had plenty of space. It was a bank holiday weekend lunchtime too – so the place was pretty packed. Its nice to go to a restaurant where they haven't tried to fit in as many tables as possible. The extra space certainly made us feel more relaxed – even when our toddler decided to make an escape from the high chair we didn't feel like she was disturbing any of the other diners.
We were seated at our table, given the adult and children's menu along with an activity pack – including crayons and bubbles to keep our daughter amused. You also get a small cup of nachos to keep you going whilst you peruse the menu. Service was excellent – our waiter was Sam and he was fab – talking us through the menu and giving his recommendations. We opted for 3 tapas dishes for us adults to share as a starter – my favourite being the chorizo croquettes! My husband went for the Cuban Cheeseburger and I went for the Sunshine Salad for mains. All got the thumbs up from us! The children's menu was £5.95 for a main, dessert and a drink. We chose the homemade chicken goujons with sweet potato fries and salad for my daughter. The portion sizes for both adult and children were just right. I also LOVED the fact they had children's cutlery. More often then not when we dine out we usually have to deal with my 2-year-old wielding cutlery bigger than her!
Her drink – a choice of fizzy drinks or juices – came in a plastic pineapple – she loved it, and so did we. It was knocked over a few times and there were no spillages! Desserts were ice cream for the little one and chocolate cake and Churros for Mum and Dad. Wowzer – those Churros were gorgeous – and a really generous portion!
All in all, we had a fab time here, the staff were great and the food delicious – a great family friendly restaurant we'll be sure to frequent again! Check out their Facebook page for special offers – they usually run promotions over school holidays – kids eat free etc. On last Thursday of every month they also host Boomchikkboom parties – basically parties (discos, bubbles, messy play etc.) for babies and toddler. Turns out partying at Revolution De Cuba isn't just for the adults!
Reviewed August 2018
Disclosure: Mumbler was lucky enough to receive this lunch for free however we pinky promised to only write a truthful account of our meal. Phew, we really enjoyed it! (otherwise that could have been awks!)
So Harrogate Mumbler were invited along to Ginos to give our honest opinion of the Family Dining experience which unfortunately meant we had to take (all) of our Mini Mumblers with us (11 months, 5, 6, 7, & 9). Although we were treated to a complementary lunch there is no amount of pizza that would persuade us to give anything other than an totally honest review, so here goes………
We arrived at 12 (ish) and were shown upstairs to the private dining room which is very swish, lots of glass walls, the table was set for 9 in the middle but there were 2 other tables so you could probably seat up to 30 in the room. The extra tables were great for the kiddies as they could colour, play, fight(!) away from the beautifully set table we would eat at.
Our waiter, David was very helpful and didn't mind at all that I asked for the music to be turned down (I was hopeful that the youngest would sleep….she didn't!) and whizzed around getting drinks and handing out menus. The games room (table football & pool table) next door to the Private Dining Room was a big hit with all the kids and the glass wall between the 2 meant we could see them but not hear them…. literally my ideal parenting situation!
The starters was 'Fantastico' sharing board for the grown-ups, which really lived up to its name with delicious meats, olives, bread and cheeses and the kids food (pizza & pasta) came at the same time which worked very well.
Having the privacy of the room upstairs meant that the kids could play, chat and enjoy themselves without us having to worry that they were potentially annoying other diners. It felt very relaxed and we didn't have to rush at all, especially once they discovered the (free) photobooth in the adjoining bar area!
The staff were all very tuned in to kids needs and nothing felt like too much trouble. With delicious food, and entertainment for the Mini Mumblers we had a (surprisingly) lovely time and will definitely return to Ginos…..
Ciao x
To join the rewards scheme (Club Individual) free of charge and receive a £30 Dining Gift follow this link
To take a look at the menus or book a table online please visit Ginos website
2018 has been a great year for Harrogate and the opening of new bars and eateries. What's especially nice to see is whilst the big high street chains can't seem to hack the pace, we are seeing small local chains and independent food and drink places in Harrogate flourish. As it's the time of year to eat, drink and be merry we thought we'd share with you some of our newly opened favourite places to eat and drink in Harrogate – with or without the little ones in tow.
Thug Sandwich 2a Albert Street
This list is in no particular order, but if it were this would be number one! Opening at the end of the summer this little sandwich shop is AMAZING. Owner Dan is a trained chef and boy, you can tell. I feel like he's somehow got inside my head and made everything especially for me – and judging by his reviews online I'm not alone in thinking this. The guy is a gastronomic genius! Pretty much everything he puts in that sandwich he makes himself – and my goodness everything I've tried so far (which to be honest is most of the menu) is a taste sensation. And for those few things he doesn't make he sources from local suppliers. My personal favourite is the special beef in soy and honey – just delicious. Portions are really generous, which always gets a thumbs up from me. The billionaire shortbread is to die for, my husband says it's ruined any other caramel shortbread for him because these are so good! I love this shop, Dan has done such a brilliant job with the place – he's so passionate about what he does and it really shines through. I'm sitting here smiling just thinking about how tasty those billionaire shortbreads are! Seriously – without a shadow of a doubt the best place to get a sandwich in Harrogate. Go check it out NOW!
I am Doner, 30 Station Parade
I am Doner opened its second premises here in Harrogate last month. I am Doner is a revolutionary kebab shop serving delicious takeaway doner kebabs, salad and rice boxes with artisan bread baked daily. They use a total of 120 ingredients in the six kebabs they make and there is nothing dirty about these kebabs! Founder Paul Baron is leading the kebab revolution after having worked in Michelin starred restaurants and been trained by top chefs. I am Doner is inspired by the kebab shops of Berlin and they've got it spot on. Me and hubby got a take away from here last week and it was delicious – portions were huge and the food was not only tasty but pretty damn healthy. Hubby went for the large roast chicken doner, I went for the chicken rice box and we shared a portion of the special street cart fries. All were super tasty but my favourite had to be the special street cart fries – basically a mixture of all their kebabs loaded on chips. What's not to love! They even do a vegan kebab which I've heard very good things about. Another great addition to the Harrogate food scene – and definitely not a kebab shop just to visit after a night out – there are even queues at lunchtime!
Corner Haus, 28a Swan Road
Situated near the entrance to Valley Gardens this café bar has literally just opened. Inspired by trips across Northern Europe, owner Isla Birch is putting everything she loves about her trips abroad into this place. They plan to serve an alternative brunch – including waffles and some yummy tasting potatoes and cheese dishes. As well as food and really good coffee, Corner Haus also serves beer and wine! There's easy access and plenty of space for pushchairs – the big leather sofas add to the relaxed atmosphere. It has a real Alpine Lodge feel to the place. I'm envisaging this place being really popular especially in the winter; I'm already thinking this will be an ideal place to warm up after some winter sledging in Valley Gardens. Something a little different to what's currently on offer in Harrogate – I think this place will be a great success!
Cold Bath Brewing Co, 46 Kings Road
This place is bought to us by three local friends who shared a love for craft lager, who were so good at making the stuff that they opened their Brew lab earlier this year. It's been a great addition to the Harrogate bar scene AND they brought the sunshine with them – what a great opening summer for them! We even managed a very unheard of date night here at the end of the summer and we loved it. Hubby can vouch that the lagers are great – he got through quite a few! The atmosphere and the bar staff were equally as great – and I can assure you if we ever get round to another date night we'll be heading here again.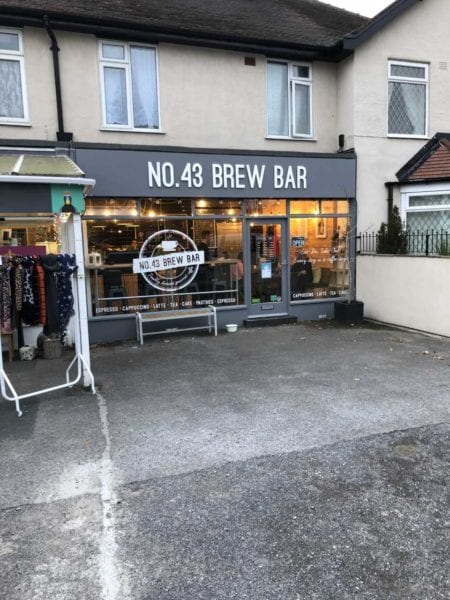 No 43 Brew Bar, 43 St. Winifreds Avenue
This is a lovely little local coffee shop in the Saints area which opened earlier this year. A small little coffee shop with a few tables and a communal bar area, this place has a really friendly and snug feel – they even have dog treats out for your four-legged friends. We took our little girl for an afternoon treat – her and hubby gave the chocolate milkshake a big thumbs up. The cakes made by the Harrogate Cake Lady looked delicious, but I opted for a scrumptious brownie, made by Brown and Blond Brownies. They also serve a selection of freshly made sandwiches and paninis, available from mid-morning. A lovely little addition to the area – already a big hit with the locals!
The Cats Pyjamas, 2-4 Albert Street
The Harrogate branch is the newest addition to this small Yorkshire chain. You might have heard they're having a few financial issues – but that appears all to be in hand now and the Harrogate branch is definitely open for business. Indian street food served in a vibrant trendy setting. Worlds away for your typical Indian restaurants and when it's done in this style it's right down my street – I particularly liked the Lamb Chops and Saag Paneer. The restaurant gets extra brownie points from us for being very kiddy friendly – with a kids menu for your more adventurous children and plenty of space for high chairs and buggies. In fact, if you're waiting on the imminent arrival of a little one the owner Alison White swears by the Pork Vindaloo to bring on labour!
There you have it – a round-up of some of our favourite new additions to the Harrogate Independent food and drink scene. And it doesn't stop there – if you're a fan of fish then FISK are opening their second restaurant in Harrogate this week, and if you're a fan of donuts you'll be pleased to know Manna Bakery are also taking over new premises. I've also been reliably informed that Baltzersen's are expanding too! If you haven't tried these places before – treat yourself as well as supporting some great local companies. As always, if you have any other recommendations you'd like to share then let us know your thoughts on our Facebook chat group!