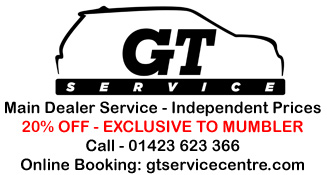 20% Mumbler Discount
Book your car in for a  service, MOT,  fix or health check and receive this discount on any parts!
Any car, shape, model and size!
Quote "Mumbler" when you book in!
At Mumbler HQ, we pride ourselves on only recommending local businesses and services who we genuinely believe in and our partnership with G T Service is no exception. Mumbler have been a customer of GT Service for 5 years now and they never fail to provide a top notch service.
Tom and his team are extremely knowledgeable but explain things in plain english, telling you about your options and the associated costs.
You don't need to pay to find out what is wrong with your car either- GT Service offer Mumblers FREE DIAGNOSTICS as well as an amazing 20% off parts and servicing.
Tom and his team are friendly and approachable- as a dad of two Tom knows how inconvenient an out-of-action car can be and they have curtesy cars for you to borrow, can arrange collection and delivery or you are very welcome to wait in their comfortable showroom where you'll find a pile of magazines and a selection of toys for the kids.
Whether it's regular servicing, tyres, unplanned maintenance or breakdown or finding your next car, contact G T Service for the best price and service locally.
They are located across the road from Follifoot Riding Stables, just off the bypass by the new rugby ground.
GT Service Ltd
Unit 1D, Follifoot Ridge Business Park,
Pannal Road,
Follifoot,
Harrogate,
HG3 1JL
T: 01423 623 366
Playful toys and décor that spark creativity 
What are you doing mummy? Can I have a turn mummy? Questions I hear every day from my little boys and the best proof of how inquisitive our little ones are. It's this curiosity that drives Wesley & George to carefully source the most playful décor, furniture and toys that create an engaging environment, spark creativity and develop little hands and minds. 
Style and substance   
Let's face it, children can be plastic magnets. I for one don't want my home buried in a blizzard of bright coloured, manmade junk! Do you feel the same way? Wesley & George have done the hard work and carefully curated collections of furniture, accessories and gifts that adults will appreciate, just as much as the kids. Life with little ones is hectic and with our range of stylish toys and accessories, there's no need to stress about wedging every last one into the nearest cupboard when they finally go to sleep! 
Wesley & George partner with independent brands who use sustainably sourced materials and non-toxic, child friendly paints to create unique pieces for design conscious parents. Focusing on investment pieces that can be cherished as children grow and passed on to future siblings. 
From carefully chosen fittings and accessories, to custom designed pieces, we're here for the little things. 
MENTION MUMBLER OFFER:
Visit www.wesleyandgeorge.co.uk to shop our playful gifts for Christmas and don't forget to enter MUMBLER20 at checkout to enjoy 20% off your order. 
Email: hello@wesleyandgeorge.co.uk 
T: 01937 858 088
Best Dressed by name and best dressed by nature. As well as small balloon packages, we are here to meet all your event décor needs, whatever you need we can work with you to design a bespoke package to make your event one to remember.
Have fun (re-)discovering Harrogate, spotting things you've never noticed before, with two quirky treasure hunt style heritage walks – a safe, fun and affordable way to get some fresh air.
Visit our website to buy in printed booklet or instant download format, using code Mumbler20 for 20% off all purchases.
Every Wednesday 10am-11am
25% off coffee with this voucher: