Featured Listing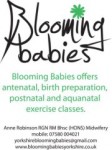 Antenatal classes (Couples):  Sunday 10.00am-1.00pm Nuffield Health Harrogate, Hornbeam Park Rd, Harrogate, HG2 8RA
Classes are suitable from 28–36 weeks pregnant
Cost £120 – 2 x 3hr classes
Includes complimentary 1 x day pass to Nuffield Health Harrogate
The Midwife run classes are both practical and informative, are kept fun and interactive. This course is delivered over 2 weeks, with a reunion a few weeks after the last baby is born.
Class 1 – Labour & ways to cope with labour. Class 2 – Feeding & caring for your newborn
Antenatal One2One Home Classes:
Cost on application
Classes led by Midwife Annie Robinson
These classes are perfect for couples unable to attend antenatal courses or who want a refresher course. Who would like a class in the comfort of their own home at an agreed time.
Contact: Annie Robinson
t: 07580004021
e: yorkshirebloomingbabies@gmail.com
w: www.bloomingbabiesyorkshire.co.uk
Qualified Nurse RM BHsc (HONS) Midwifery, Aquanatal level 1 & level 2, Diploma in Teaching Infant Massage (Instructor Course)
Featured Listing
Blooming Babies love baby massage. It helps alleviate baby ailments and aids sleeping, as babies develop ways to calm and relax. It is an excellent way for Dads to connect with their baby, and encourages a greater confidence in caring for their new baby. It is also a lovely opportunity for Dad's to meet other new Dads. Whilst Dad and baby enjoy a lovely massage class, Mums are welcome to enjoy Nuffield's relaxing spa.
Dad's Baby Massage Class: Sundays Nuffield Health Harrogate, Hornbeam Park Rd, Harrogate, HG2 8RA
Classes suitable from 6 weeks old
Cost £10 – 1 hour classes
Advanced booking required
Baby Massage (Home): ONE2ONE
Cost on application
Contact: Annie Robinson
t: 07580004021
e: yorkshirebloomingbabies@gmail.com
w: www.bloomingbabiesyorkshire.co.uk
Qualified Nurse RM BHsc (HONS) Midwifery
Aquanatal level 1 & level 2
Diploma in Teaching Infant Massage (Instructor Course)
Featured Listing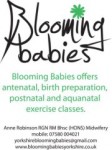 Classes are held at Nuffield Harrogate on Tuesdays & weekends (Pre-booking essential)
Home groups also available (Min number of bookings=6, Max 10)
Classes are held by me a Practising Midwife & a Qualified Nurse, whereby I specialised in A&E.
It is essential, as a parent or guardian of children, you are able to care for your baby in an emergency. By attending the course, you will gain confidence & awareness of how to treat your baby quickly in the event of an emergency. You will learn skills to care for your baby who suddenly becomes unwell or injured.
Limited time only – 10% discount for couple (mum & dad) bookings available!
Course booking:
Advanced booking essential.
Paediatric First Aid Made Easy Paperback included per person/couple RRP £5.99.
Practice CPR techniques on manikins
Limited class numbers
First Aid course content:
Basic Life Support – baby & child
Choking baby & child
Recovery position for baby & child
Head Injuries
Bumps, sprains, broken bones
Burns
Febrile Convulsion (fitting)
Signs of Meningitis
Swallowing harmful substances
First Aid ie. bandaging, stopping bleeding etc
Drowning
Annie Robinson, Blooming Babies
T: 07580004021
E: yorkshirebloomingbabies@gmail.com
W: www.bloomingbabiesyorkshire.co.uk
Featured Listing
Chatsworth Dance believe our combination of expertise and enthusiasm provides top quality tuition and facilities.
We hold over 70 classes a week in 2 dedicated studios as well as additional classes at Harrogate Gymnastics at Hornbeam park with 8 qualified teachers teaching over 500 students (Girls, boys & ladies)
Classes start from 18 months upwards (no upper limit!) there is something for everyone including Ballet, Tap, Modern Jazz, Musical Theatre
Born to Dance (baby ballet age 18 months to 3 years) This class is for babies/toddlers and a parent/guardian. Designed to introduce boys and girls to movement, rhythm and co-ordination through music (accompanied by an adult).
Pre-School Dance (ages 3 and 4) A class devised especially for boys and girls aged 3 years to school age. The emphasis is on freedom of movement, development of co-ordination and building confidence.
Ballet (IDTA syllabus) Still as popular as ever – indeed we currently have over 140 students coming to ballet classes every week! Ballet has a technique which is the foundation of all dance. We currently run 16 classes per week covering 10 different grades/standards
Tap (IDTA syllabus) Popular with teachers as well as students, tap spans many diverse musical styles and is enjoying an increasing popularity amongst our students. Beginners through to Seniors.
Modern Jazz (IDTA syllabus) Modern Jazz is designed to be a combination of structure and fun – principally geared to demonstrate emotion through interpretation of any musical genre.  Beginners through to Seniors.
Freestyle & Boys Dance (IDTA syllabus) Our freestyle classes are very popular and very energetic. Covering age ranges from 6+ to 17+.
Musical Theatre & Theatrecraft For those who aspire to emulate the stars of "Mamma Mia" or even the "X" Factor, our Musical Theatre classes give the opportunity for students to exercise their vocal talents as well as their dancing skills.
Zumba Fitness® & Zumba Gold® is the only Latin-inspired dance-fitness program that blends red-hot international music, created by Grammy Award-winning producers, and contagious steps to form a "fitness-party" that is downright addictive. Zumba Gold® is the low impact version.
Adult Tap & Ballet We run a number of classes both adults returning to dance and beginners
Discofit A unique exercise and fitness programme for all levels based on ever-popular disco classics!
For the current timetable visit chatsworthdance.co.uk/timetable
Tel 01423 522322 or visit chatsworthdance.co.uk
Featured Listing
Magic Hours are available every weekend. If your little one is itching to get onto 2 wheels be it balancing and or pedaling, now's your chance! If they are already riding and need to brush up on their skills/got a new bike, then an hours 1:1 tuition is perfect too
Everything about the 1:1 Magic Hour can be found here..
Take a peek at the dates on our website here and if they work then let's do it!
Cant balance? Wont balance? Fret no more…the Strider balance bikes have landed!
We have 5 x 12″ wheeled Strider Sport balance bikes for our 2-5yr olds and 5 x 16″ wheeled Strider Sport balance bikes for our 6-12 yr olds. Whether its a 1:1 or as a group of up to 5 budding cycling superstars, Dave can get your little ones up and balancing in no time at all, in readiness for the transition to a two wheeled pedal bike
With prices starting at as little as £5 per child for a group lesson, Dave can light that bicycling fire and get your little ones itching to be playing out on their bikes (rather than staring at the latest computer gizmo thingymajig!)
With a full, enhanced DBS, fully British Cycling Insured and a First Aid certificate, Dave can come to your school and take the weight off your hands for maybe an hour or two and have a stack of fun with your pre-school and reception children teaching them the art of balance and giving them the confidence to ride a bike in the future and it doesnt stop there, Dave can teach balance all the way through to Year 6… and beyond if necessary!
For more information visit iwanttoridemybike.co.uk/bike-tykes-the-balance-bike-sessions/
Featured Listing
Rugbytots is the world's favourite rugby play programme. Our dynamic weekly sessions enable boys and girls aged 2-7 to develop their social and physical skills in a fun and positive environment.
Class Venue:
Harrogate – St Aidans's C of E High School – Saturdays & Sundays (AM)
Please contact: jon.steel@rugbytots.co.uk or tel 0345 313 0283 to book a FREE taster or for more information
Featured Listing
Performing Arts School for 4-18 years.
At Stagecoach Performing Arts, we promise to give our students the creative courage to embrace life and make the most of their talents and opportunities.
As a leading body in the performing arts industry, we will nurture and inspire every child who joins us.
We will keep them safe and give them the courage to be themselves.
Your child will learn how to sing, dance and act while developing a broad range of life skills.
Our students become more self-assured, expressive, sociable and imaginative and they learn how to tackle situations with resilience, creativity and courage.
Stagecoach Harrogate has been providing quality part time training in singing, dancing and acting for 17 years, firing the imagination, boosting confidence and promoting life skills.
As well as regular classes during the school term we have performed several times in the West End, have appeared with the Stagecoach North East Regional Choir at The Birmingham Symphony Hall, have performed in "Cats" at the NIA in Birmingham and have been the support act for a "Queen" tribute open air pop concert at Ripley Castle.
Now taking bookings for the September term.
Call Principal Ce on 01423 771138 e: harrogate@stagecoach.co.uk
Featured Listing
We help to inspire children to explore and develop through arts and crafts. We have a programme of award winning classes, that are underpinned by the Early Years Foundation Stage curriculum, to give you a fun experience in a friendly, nurturing environment.  From painting to gloop to clay and more, your child is sure to be engaged in our weekly sessions based on the termly topic.
We offer five types of sessions-
Baby Discover (from 5-15 months)
Wednesday 11am, Winkies Softplay, Starbeck (Including free entry to softplay)
Little Explorer (from 16 months-5 years)
Wednesday 12.30pm, Winkies Softplay, Starbeck (Including free entry to softplay)
Family Fun (from 0-11 years)
Family session that runs in the school holidays or special occasions, dates and times regularly updated on our website.
Arty Party (from 1-11 years)
Throw a party with a difference, hassle free and memorable. Packages start from £100.
Cost: Sessions are from £4.95 per class.
Contact Sharon: 
Tel: 07851320987
E-mail: sharonfisher@thecreationstation.co.uk
Featured Listing
CLASSES, PARTIES AND CAMPS
For every stage of your child's development – from 4 months to 12 years – The Little Gym offers a diverse line up of classes, camps and parties filled with movement, music, learning and laughter. Your little ones will make friends, reach developmental milestones and build self confidence while having Serious Fun.
Tel: 01423 701560 or email: harrogate@thelittlegym.eu
1 Cardale Park, Harrogate HG3 1RY
3rd September 2018 – 21st July 2019 Class Schedule
Featured Listing
Turtle Tots Yorkshire is a specialist baby & preschool swimming school delivering classes in the Harrogate, York and Leeds area. Our unique and fun Turtle Tots baby, toddler and pre-school swimming classes teach you how to swim with your young child, creating that special one-to-one bond and also giving you a fantastic toning workout at the same time! We are now also delivering weekend classes for school age children (up to Key Stage 2) in Harrogate, York and East Leeds.
We pride ourselves on being a very different and personable baby and pre-school swim school and our class emphasis is on nurturing the parent & baby bond. This is achieved through gentle water massage and closeness with your baby in the early stages, whilst also teaching through play and word association and assisting with post natal fitness. Our toddler and pre-school classes continue with this close nurturing, but with a lot more communication directly between the teacher and the little ones.
We teach them Water safety skills to help improve their confidence in the water, the introduction of basic stroke skills and to keep their attention span with lots of fast and fun water activity play and games, and progression onto swimming independently with and without aides at their own pace.
Our swimming classes are held in warm water pools and you can join our Aqua Natal classes at anytime during your pregnancy. Our swimming classes for babies, toddlers and kids continue right up to your little one starting school and beyond. All of our programmes are designed in conjunction with qualified aquatics specialists in baby and pre-school swimming development. In addition, Turtle Tots teachers right across the UK are fully qualified in all aspects of Swim School teaching from baby & parent through to adult tuition and they are continually developing their skills in aquatic baby and pre-school development too. As we are a national network, we are able to share valuable experiences and ideas within our teams with lots of expertise and advice on hand to share to the wider community.
We run classes on a Monday, Wednesday, Friday & Saturday in the Harrogate area. Tuesday, Thursday & Saturday in York and Sunday in East Leeds, plus we offer a free taster sessions to see if you and your little one would enjoy a structured swimming class. We also offer a 10% first term discount for Harrogate, York & Leeds Mumbler members.
For further information on free taster sessions and class availability, please contact:-
Paula Stewart – Harrogate, York & Leeds North & East,
Tel: 01423 210214
Mob: 07807 127373
Email: northyorkshire@turtletots.com
Facebook: www.facebook.com/TurtleTotsNorthYorkshire
Featured Listing
Baby swimming with Water Babies is an exciting, enriching experience for both you and your little one. suitable for little ones from birth up to school age.  As the UK's leading swim school, not only do we teach vital lifesaving skills but we always incorporate lots of bonding, fun and socialising, so you can be sure that a Water Baby is a happy one! Our number one priority is to make sure you feel both happy and safe in the water.
Contact 01904 607110 or littlefish@waterbabies.co.uk for more information.
Find us on facebook at https://www.facebook.com/WaterBabiesNorthYorkshire/
For any Mumblers that book onto a course, just quote Harrogate Mumbler and we will send you a free Splashabout Happy Nappy (required for the lessons) with your starter pack worth £10.99!
Happy splashing x
9.30-10.30am First Sunday of the month. Crafty Chefs run sessions at Kidzplay on the first Sunday of the month 9.30 til 10.30 which includes a free play afterwards.
Our number for bookings is 07708849614
A safe environment for children aged 3 – 6 years to have fun and improve their coordination and concentration skills. Soft golf balls, brightly coloured plastic golf clubs and experienced PGA Professionals prove it's never too early to start playing golf!  £5 per child
Every Sunday: 11am or 11.30am
For more information call 01423 871350
CarryMoor visits Harrogate three times a month at the Bilton Area Methodist Church on the second Thursday of the month, and every two weeks on a Sunday at Indulge, Hornbeam Park.
You can get advice, you can try out and hire a library sling or carrier and you can get help with your own. They are free sessions, there's only a fee if you hire.  The inventory of the library is always changing and growing, please get in touch if you need more information.