Featured Listing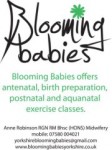 Antenatal classes (Couples):  Sunday 10.00am-1.00pm Nuffield Health Harrogate, Hornbeam Park Rd, Harrogate, HG2 8RA
Classes are suitable from 28–36 weeks pregnant
Cost £120 – 2 x 3hr classes
Includes complimentary 1 x day pass to Nuffield Health Harrogate
The Midwife run classes are both practical and informative, are kept fun and interactive. This course is delivered over 2 weeks, with a reunion a few weeks after the last baby is born.
Class 1 – Labour & ways to cope with labour. Class 2 – Feeding & caring for your newborn
Antenatal One2One Home Classes:
Cost on application
Classes led by Midwife Annie Robinson
These classes are perfect for couples unable to attend antenatal courses or who want a refresher course. Who would like a class in the comfort of their own home at an agreed time.
Contact: Annie Robinson
t: 07580004021
e: yorkshirebloomingbabies@gmail.com
w: www.bloomingbabiesyorkshire.co.uk
Qualified Nurse RM BHsc (HONS) Midwifery, Aquanatal level 1 & level 2, Diploma in Teaching Infant Massage (Instructor Course)
Featured Listing
Post, pre and neonatal counselling. Specialising in work with overwhelmed new parents and fathers that have lost a sense of who they are. Qualified and trained Marriage and couples therapist. Also working with anxiety, depression and addiction.
Flexible hours, session lengths (50,60 and 90 minute). Post graduate trained Psychotherapist & Counsellor Nicholas Reid.
For more information please see www.Tri-Psychotherapy.com
email: info@Tri-Psychotherapy.com or call 07707111240.
Featured Listing
What's on on a Friday at the Harrogate Children's Centres? Timetable for January- March 2019
Children & Families: Prevention. Harrogate & Knaresborough Areas.
Click here to download the full timetable as a PDF
Please contact the centre to confirm that the session is running prior to travelling. www.northyorks.gov.uk
Some sessions will not run during the school holidays.
Featured Listing
Featured Listing
Reflect is a pregnancy support charity based in York and Harrogate. We provide free, impartial and confidential support to men and women facing an unexpected pregnancy choice and to those struggling after experiencing pregnancy loss, including miscarriage, still-birth and post-abortion. We can offer face to face advice and support at our venues in Acomb and Harrogate, or if this is not convenient, we can also arrange other appointment locations or provide help over the telephone or by email.
Why We Help:
1 in 3 women will have an abortion in their lifetime
1 in 4 early pregnancies end in miscarriage
97% of abortions in 2013 were carried out solely to reduce the risk of harm to the well-being of the pregnant woman. However, the number of women seeking post-abortion support is rising.
Research shows a woman is best able to cope with an unintended pregnancy decision made free from pressure or fear. A woman (and her partner) are far more likely to cope with a decision that has not been rushed, knowing they have made a truly informed choice, even if it is difficult at the time.
We offer this time and space at Reflect, with non-judgemental support and information to help people make the decision best for them. We provide emotional and practical support whatever the outcome and aim to help all men and women access the services they need.
Phone: 01423 206710
Mobile: 07517 638007
Address: Reflect, The Gateway Centre, Front Street, Acomb YO24 3BZ
Rebecca's Story
"When I contacted Reflect I literally felt like I couldn't go on…I thought I had to be strong and 'get on' and not show my vulnerable side…I knew they would help me, being specialists in what they did, but I never expected such warmth, love, support and gentle encouragement…Without Reflect I hate to think where I would be now…The pain and heartbreak hasn't gone away, but Reflect has helped me to see the sunshine through the clouds…I am forever and eternally thankful."
Emily and Karl's Story
"Losing two much wanted babies in quick succession last year left Karl and I feeling that our light had gone out and that only darkness lay ahead for us…I was a complete mess and unable to return to work, and Karl's heart was breaking as nothing he could do or say would comfort me…We can safely say that the day we found Reflect was the day that changed our lives forever…We cannot emphasise enough the importance of the work that Reflect does, or how essential it is that they become more widely recognised so that other people in need can benefit from their incredible support. Their help has had a huge and everlasting impact on our lives."
Featured Listing
Your baby's umbilical cord is a valuable source of stem cells which can be collected and stored. These cells may be used as a crucial part of treating or curing an illness. Cord blood is the blood that remains in the placenta and umbilical cord after a baby is born, which are both usually thrown away after the birth. However, as this is a rich source of stem cells, it can be collected, processed and stored to be used later for potential treatment.
Based just outside London, Smart Cells are the UK's first cord blood storage company. Collecting and storing cord blood from newborn babies has become more well-known over recent years, but many are still unaware of the fantastic opportunities it can give your child and their siblings throughout their lives.
More than 80 medical conditions, ranging from cerebral palsy to sickle cell disease and many more in between, can currently be treated using cord blood stem cells.
Smart Cells are currently leading the way in advances into stem cell research to identify more conditions and symptoms that can be treated using cord blood, with 20 stem cell samples released for clinical use since 2005 – this is more than any other private cord blood company in the UK.
Pregnancy and starting a family are full of special moments that you don't want to miss. You only have one chance to store your baby's cord blood. Contact Smart Cells to find out more.
Learn more about Smart Cells at their website or on social media:
Get in touch to find out more about your options:
Featured Listing
What's on at Harrogate Children's Centres on a Wednesday
Timetable from January-March 2019
Children & Families: Prevention. Harrogate & Knaresborough Areas.
Click here to download the full weekly timetable as a PDF
Please contact the centre to confirm that the session is running prior to travelling. www.northyorks.gov.uk
Some sessions will not run during the school holidays.
Featured Listing
Relaxation and Mindfulness therapies:-
In the UK, 1 in 4 people will experience a health problem at any one time, including in the workplace. Most of my clients take up my services where I teach you skills and give you tools to make a difference to your life you can also buy MP3 to support your sessions, see below some examples :-
* I.B.S.
* Pre-Examination Performance Programme
* Motivational Techniques
* Stress Management
* Anxiety – Panic Attacks
* Depression – Insomnia
* Addictions
* Phobias
Reiki
Reiki energy session can brings deep relaxation, soothing emotions and reducing negative feelings. It can help you be the best that you can be. One treatment is physiologically the equivalent to 3/4 hours of deep sleep. It helps you find true peace of mind and brings positivity to help you cope with life's daily challenges.
Ear Candling (Hopi candles)
Regular ear candling treatments are thought to provide beneficial relief from the following conditions:
* Migraines
* Hay fever
* Anxiety and stress
* Post flying and driving pressure
* Swimmer's ear
* Asthma
* Vertigo
* Yeast infections
* Cold and flu
* Parasites
* Snoring
* Itching in the ears
Please ring Loraine to have a chat regarding various therapies and beauty treatments.
Email:loraine@relaxationandmindfulness.com
Mobile: 07429541273
www.relaxationandmindfulness.com
Doula: Leyla Erimhan
* I cover all of Yorkshire
* I believe every woman deserves support to achieve the birth she wants
* Qualified KG Hypnobirthing teacher
Please call Leyla on 07917865219
Hypnobirthing & complete antenatal courses to inform and empower you for a calm, confident and positive pregnancy and birth. Helping you and your partner to become a real 'birthing dream team'. Eliminating any fears you have about your birth and filling you with confidence to have a positive birth experience – whatever labour throws at you.
For more information and to book contact me (Susan) call  07954 238 424
'feel empowered for life through a positive birth experience'
Inspired Birth offers a complete birth preparation program through hypnobirthing. Hypnobirthing teaches the physiology of birth, breathing & relaxation techniques alongside self-hypnosis to be used during labour. This knowledge & understanding help to remove any fear & allow for a calm & safe birth.
Call Ruth on 07738593175.
10% discount when quoting HARROGATE MUMBLER