We are busy gathering information from this page and we would really appreciate your help.
Basic listings are free so if you know of something that should be included please let me know by e-mailing Sarah@harrogatemumbler.com
Children & Families: Early Help provides support for a family when a need is identified at any point in a child's life. We work across all agencies and partners and we aim to deliver the right support, at the right time and in the right place to families.
The following group activities will be available to meet local need. Most of these programmes are referral-only. Please talk to any practitioner if you would like you, your child and/or a family member to be referred onto any of the activities. The practitioner will contact us to add your name and details onto our waiting lists and you will then be contacted.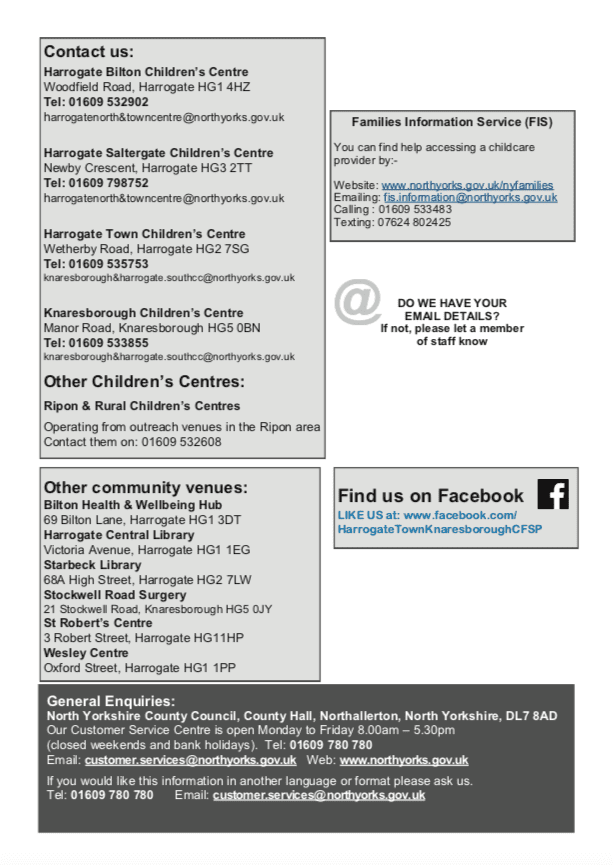 FM is for super cool mums who are doing it all and need to relate to other super cool mums in an honest and supportive way.  FM supports all mums  in this exciting and often unpredictable journey!  You are not alone.  I can promise you that there are others feeling exactly how you feel right now!  Same thoughts, same pressures, same emotions, same feelings.  Please share your thoughts and expert wisdom on the topics that come up.  If you fancy writing a blog to support other mums of your own experiences then please get in touch.  We are in this together and I've got your back! FM x
Lucy's Pop Choir is coming to Harrogate! We're an adult choir who sing pop songs you know and love from the charts. There are NO auditions, NO sheet music, just plenty of fun singing!
We'll be meeting on Wednesday nights, 7:30 – 9pm at The Crown Hotel in Harrogate City Centre starting from 4th September 2019. We've also got a 4 week taster course starting on 19th June for those of you who just can't wait until September!
Lucy's Pop Choir launched in York 6 years ago and now has 7 choirs across York and other cities in the UK. We're super excited to have Harrogate joining the gang!
For tickets to our taster course starting in June please visit:
https://www.eventbrite.co.uk/e/lucys-pop-choir-4-week-taster-course-tickets-59900473930
And don't forget to like our Facebook page to keep up to date:
www.facebook.com/lucyspopchoirharrogate
For more information or to get in touch please see below:
www.lucyspopchoirharrogate.co.uk